It's Labor Day weekend, and I decided to turn a 3-day weekend into a 4-day one by taking Friday off. My brother, his girlfriend, and I loaded into a car and drove 3 hours up to Dallas. I dropped them off at my cousin's place, and then I drove to see my friend Jack, who is also my cosplaying partner XD;; And well, what is cosplaying without a con. We went to AnimeFest the next day.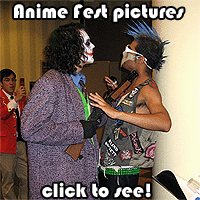 My first time at this particular con, and it was pretty fun. Jack and I, unfortunately, didn't have new costumes ready for it. Not because we didn't have time. We just… haven't felt like sewing lately. I decided to drag our Trauma Center costumes back out, which we wore in February for Ikkicon.
This one is a fun one to wear, mainly because barely anyone does Trauma Center costumes! It feels awesome when people are excited to see you. I've realized we're a little dated though XD;; Now that Trauma Center 2 is out, Derek and Angie don't wear blue and pink scrubs anymore!
On the way back from the con, we picked up a cat for a friend. It used to be entered in cat shows, but is now retired, so the owners were selling it. My friend fell in love with it when it was at a cat show in Austin, but she didn't get it at that time. It's back again for a show in Arlington, but since she's out of town this weekend, I picked it up for her. You might not believe me when I say it looks just like Garfield, but… HE DOES: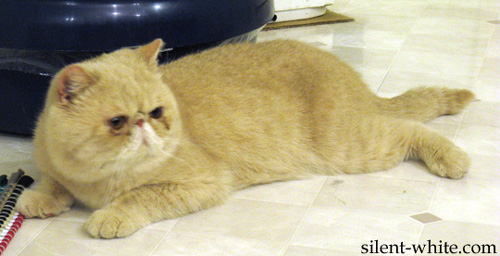 Anyway, now I'm back in Austin, and I'm exhausted. I still have tomorrow off, so I guess I will take it easy =P