Our turtles no longer scatter away when we get close. They do, however, seem to look at us with suspicion.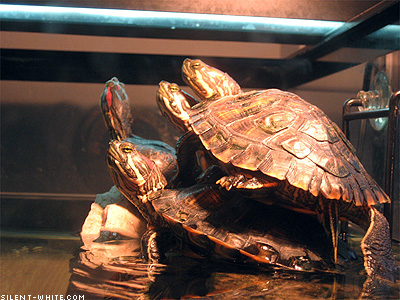 I got tickets to Nine Inch Nails and Jane's Addiction. Sweeeeeet. Next up is to get Metallica tickets!
I went to Video Games Live on Saturday, which is a concert that plays orchestrial video game music. It's nice to be a female gamer. When I went to the restroom during intermission, the men's restroom had a long line. There was none for the women's. Har har har.
I fail at Ikea furniture. I got a cabinet for underneath my desk, and I made all of the drawers backwards. Whoops. (I had to re-do them.)
I'm finally on the last chapter or so of the Watchmen. I was told that my friends who read it, loved the movie, while ones that didn't, did not enjoy it so much. I'll probably watch the movie on Wednesday!
It's a good thing yaoi manga are plastic wrapped. When Eva sent manga to my work place, I was so tempted to read some Junjou Romantica. (Thanks a bunch for them though XD)
I discovered an awesome new snack thanks to a friend: Wasabi Tempura Seaweed snacks. It's like 3 good things all combined into one. Amazing. But, I ate them all =(
Due to the lack of a better conclusion: END.