We currently have a guest staying over at our apartment for about a week. Say hello to… Mr. Peanut!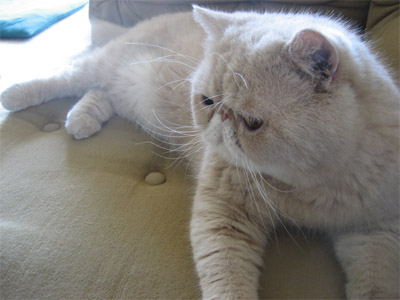 If you read this entry back in August, this cat might look familiar to you. My boyfriend and I are "cat sitting" him while my friend is out of town. I'm normally horribly allergic to cats, but surprisingly, my allergies haven't been acting up while he's here. I think taking allergy meds every morning and keeping him out of the bedroom helps a lot.
The other day, a little incident happened! When we clean the turtle aquarium, we put the turtles in a big plastic tub temporarily. Well, my boyfriend left the tub out, with the dirty turtle water still inside. Peanut, without looking, jumped off of a chair and splashed right into it. He hates water, so that was an unpleasant surprise XD;; I then had to clean him, which was a struggle. He constantly tried to get out of the bathtub, even escaping once or twice and making me chase after him. We have the plastic tub covered now, so that should prevent any future accidents with it!
If you want to see more of the little guy, my friend made him a YouTube and Twitter account. Anyway! Other than that, not much else is new in my life. I had to work until midnight on Wednesday due to a work release, so I'm just glad to have a relaxing weekend =)