Well, I didn't go to work today and won't be tomorrow either. Today was the first day of the 3 day Lone Star Ruby Conference for this year. Since we use Ruby on Rails at work, our company let anyone who was interested go and even paid for our registration. Almost every tester and developer signed up, including me. I've never been before, so this should be a helpful experience!
Recently, my boyfriend and I have barricaded our turtle tank. It looks odd, but got to work with what you have, right?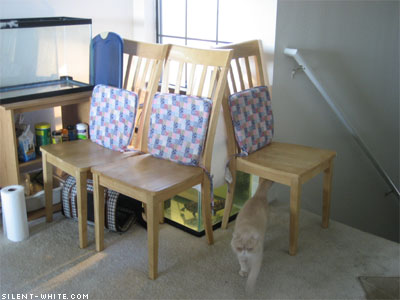 Why, you ask? See that cat? That's Mr. Peanut. As innocent as he may look…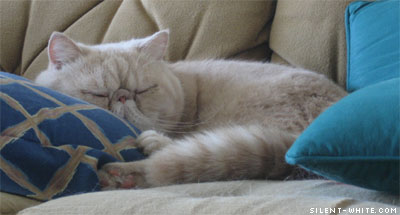 …he onced jumped into a tub of dirty turtle water and on a separate occassion, actually jumped into the turtle tank. I remember that morning when my boyfriend and I stepped out of our bedroom. We saw Peanut sitting on the couch, soaking wet, trying to act as if nothing was out of the ordinary. However, the trail of water from the turtle tank, under the dining table, into the living room, onto the coffee table, leading up to his soaking wet body on the couch was a big hint that something had happened. (No turtles were harmed however, which is good.)
Anyway, Peanut is over again because we're taking care of him while my friend is on a business trip. So far, so good. No turtle incidents have happened. But! Now it's time for bed. The conference starts at 9AM tomorrow morning, and man do I hate waking up early.