With Halloween coming up in a couple weeks, I've started to do more work on my Sakura (Street Fighter) costume. Here's my progress so far!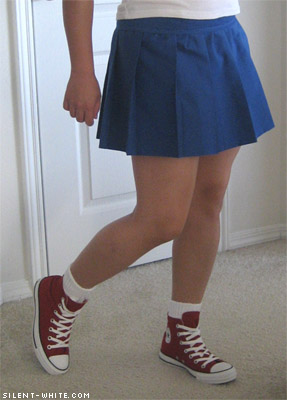 I finished the skirt, which actually took me 2 tries. On my first try, I finished the skirt completely, only to find that I didn't account for hip room, so the fit didn't look right. Instead of trying to fix it, I started over. The red Converse sneakers are also new shoes that came in just recently. What's left is: make the top, style the wig, make her fighting gloves. Hopefully, I'll be done in time!
I also finally put content onto the Costumes section of my Cosplay blog. My next project after Sakura's costume with be not one, not two, but THREE Code Geass costumes, which will be worn in June. I'm making a Suzaku costume for myself, Lelouch for Jess, and Lloyd for Jack. I… um… have a lot of work to do. Yeahhh.