…to my boyfriend! Like every year since we've been together, I made him a special cake related to a video game. Past years: Jigglypuff, Kirby, and Companion Cube.
What did I do this year? I made…
THE SANDVICH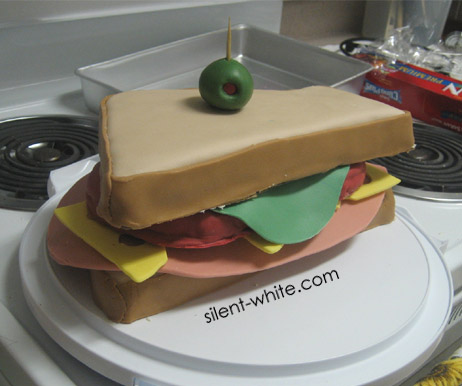 No, I didn't misspell it. It is indeed a "sandvich", which is an item in Team Fortress 2. My boyfriend loves that game, and I also think the sandvich video is funny, so I decided on that this year :3
The bread pieces are made of yellow cake, and some of the left over cake was used to make the tomatoes. The lettuce, cheese, and meat is just rolled out fondant. All the cake pieces are also covered with fondant. I'm pretty happy with it! I think my fondant technique is getting better. I crumb coated and refrigerated the cakes for a day before covering this time. It made it so much easier. I'm not sure why I didn't do that on my past cakes!
Anyway, we're celebrating with friends at a BBQ place for dinner. Looking forward to it! I love Texas BBQ so much XD