Texas weather can change drastically. On Sunday, we had a nice, sunny day in the 70s°F, T-shirt and sandals weather. Then on Tuesday, it snowed.
I know what snow is like. I used to live in NY and have gone skiing before, but Austin is not a city that gets snow. It snows here maybe once a year if we're lucky. If it does snow, it's short and melts shortly after. That's why it was bizarre on Tuesday. Not only did it snow so soon after having a hot day, it snowed a lot and through most of the day.
My boyfriend decided to work at home that day, so I went home during lunch to eat together. Since the snow had started to accumulate, he suggested that I use my DSLR to take pictures outside. I thought that was a great idea. After taking several pictures, I turned to head back inside when he said to me, "I have something for you." He then got on one knee.
Will you marry me?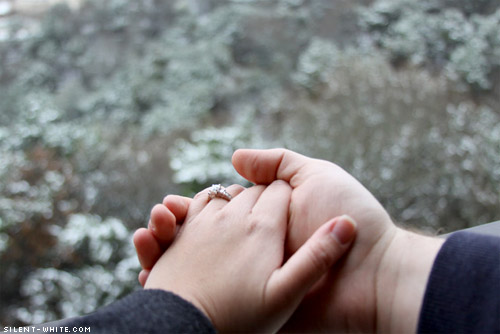 Yes, this happened a couple days ago, but I wanted to give my family and closest friends a chance to know first before posting it publicly =) The common question is, what about the wedding? We're getting close to the end of our house hunt, so I can't even think about buying a house and planning a wedding at the same time. The wedding will have to wait!
And, here's another look of the ring =)