While out buying more stuff for my sewing room, I also picked up 3 more packs of hangers. As the seasons change, I normally take some clothing off of hangers and fold them up to make room to hang other clothing. However, I've realized I don't need to do that anymore. Our bedroom in our new house not only has a huge closet, but it has two walk-in closets. Yes, two connected to the same room!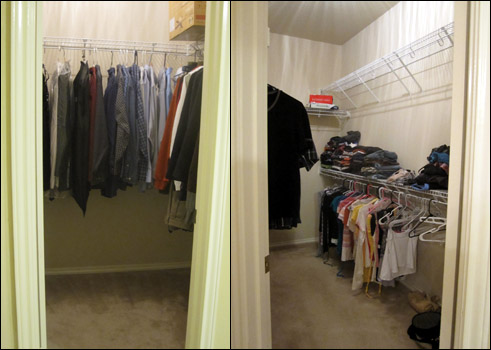 I put our normal clothes in the bigger one and the less used clothing (formal wear, coats) in the smaller one.
For those who have followed my blog for a while, you may remember this furball:


It's Mr. Peanut! My friend is on vacation, so we're taking care of him again for a couple weeks. A problem we've had before is that he's jumped into the turtle aquarium. It's a lot better now, because we moved the turtles into their own room, where we can close the door. No more cat/turtle problems anymore… hopefully!
Speaking of turtles though, we ordered pizza the other day, and well… pizza + turtles? Reminders of Teenage Mutant Ninja Turtles anyone? I just had to take this photo:


Though she very much wanted to eat that pizza, we didn't actually feed it to her. We rewarded her with shrimp treats afterward though for letting us tease her with it XD;;
Anyway, that's it from me for now. Until next time~