I've done the bag meme before, but after seeing Jenny do it, I was inspired to do it again since the contents of my purse have changed a little. So… here it is!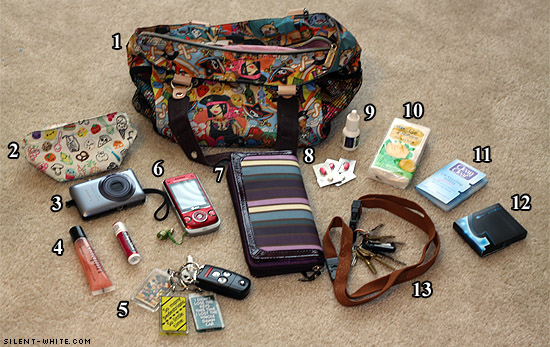 1. tokidoki bag
2. Paperchase bag. I put my camera in it to keep it from getting scratched.
3. I always carry a compact camera with me, so I never miss a good photo moment. It's also been handy for my Project 365. This is a Canon Powershot SD940.
4. Philosophy lip shine and chapstick
5. Car keys + key to my parents' house. There's 3 keychains: Dragonball Z, "So many pedestrians, so little time", "I didn't lose the keys this time, I lost the whole damn car".
6. Cell phone. I don't actually like it, but I'm waiting for my contract to end, so I can switch providers.
7. Wallet
8. Allergy medication, just incase allergies act up
9. Eye drops for re-wetting contact lens
10. Tissue pack
11. Face oil absorbing sheets
12. Pack of 5 Gum, "Cobolt" flavor
13. Keys for work and home. Since we still have the lease on our previous apartment, I'm carrying 2 sets of house keys and 2 sets of mail keys.
I actually bought that wallet a few days ago. My previous wallet was falling apart, so I was due for a new one. I like this one a lot because it can hold all of my cards: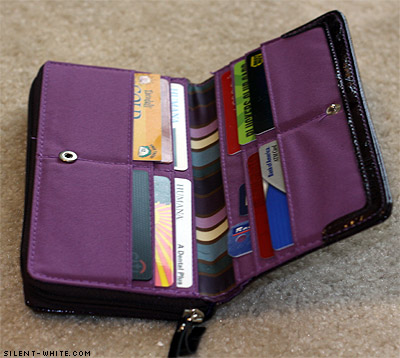 2 are credit cards and 1 a debit card. 2 are my health and dental insurance cards. The rest are membership cards at stores and restaurants. I'm such a sucker for those things. If there is a discount to be had, then sign me up!