"So… do we celebrate when you proposed or when we first dated?"
"The date I remember."
"Day we first dated it is."
And so, tomorrow we celebrate our 5 year anniversary =) Yeps, tomorrow will be 5 years since we first dated during college. Since then, we've moved in together, got engaged, and bought a house together. Time flies! We're not doing anything too special. We tend to be more laid back.
We debated between cooking at home or eating out and decided we'll go to a Cajun/Creole restaurant we really like. They have a tabasco cheesecake that is delicious. I know it sounds weird, but don't knock it til you've tried it ;) You barely taste the tabasco, yet it leaves your mouth with that feeling of eating spicy food.
The other thing coming up is Halloween! I finished my costume just last night. I'm going as Knives Chau (movie version) from Scott Pilgrim vs the World.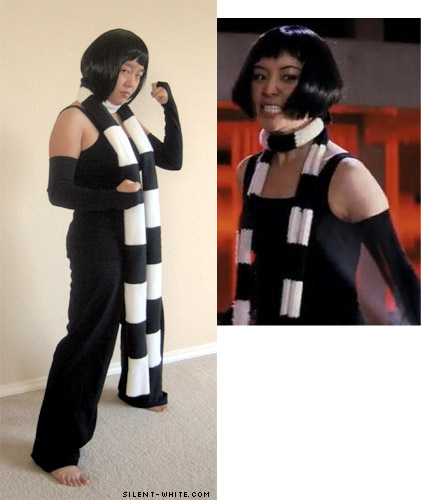 (Ignore the lack of make up and shoes XD;; I took this after I woke up this morning.)
Easiest costume I've done so far! I bought the shirt and pants but made the scarf with fleece and the arm bands with knit. The wig also took minimal styling. I just trimmed the bangs. I plan on doing the graphic novel version for a gaming expo, but I figure Halloween is a less nerdy crowd and went with the movie version.
I think my friends and I are going downtown for Halloween. A bunch of people always gather on 6th street, and it's fun to see all the costumes. Some people get really creative. I'm looking forward to the weekend!