Well, life has been kind of busy lately. I have a couple days off for Thanksgiving, which I'm looking forward to. I'm trying to finish a lot of my work before it though, so I don't have to worry about it. Thus, work has been busy.
I've also been busy working on a birthday cake for my fiance. Every year, I make him a video game cake (view last year's). I used to surprise him, but since we live together, he'd be able to see what I'm working on. I let him choose this year, and he wanted the Terran bunker from Starcraft 2. It was a lot of work, but I got it done!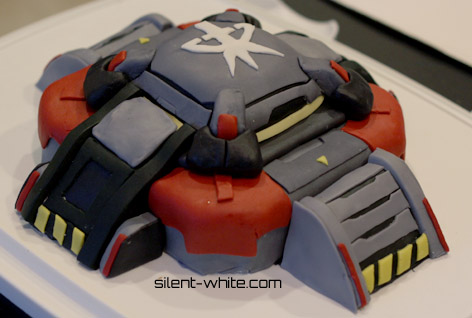 And here is a view from the top: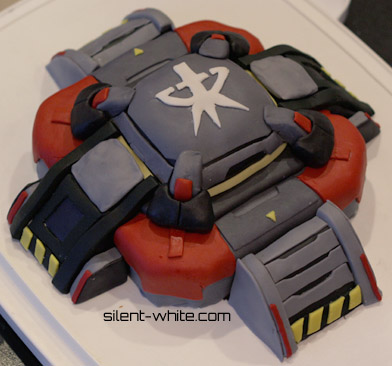 Yes, that is cake =) It is almost all edible. The base of the building, the 4 ramps, and the dome are all cake. The rest is decorated with fondant. I say "almost" because I did place a cake board underneath the dome, so I could remove it easily when cutting the cake.
I split the work into 3 days. I used Thur and Fri to bake cakes, make frosting, carve and crumb coat cakes. Part of Fri and most of Sat was fondant work. If you're interested in the "in progress" photos, you can view them here.
I know my work is no where near a professional, but I'm just happy that my fondant work is getting better and that I tried a harder cake =) Sadly, cake doesn't last forever. 4 hours after I finished it, I was already cutting it up to serve to friends. Oh cake decorating, such an ephemeral art!