Last week, I saw that there was a PS3 deal where you get $100 back in Amazon credit. I was on the fence. Part of me felt we have too much gaming stuff already. Part of me has been wanting one, and that's a good deal.
So… I brought it up to my fiance, thinking he'd persuade me not to get it and the decision would be over with. Instead, he was tempted too, and… we ended up buying it. Apparently, we are a horrible influence on each other.
It arrived today! Unfortunately, it came at an inconvenient time. Due to the holidays, my fiance is out of town at his parents', and I'm spending most of the time at my parents'. We probably won't play it til January. I just set it up next to the Xbox 360 for now.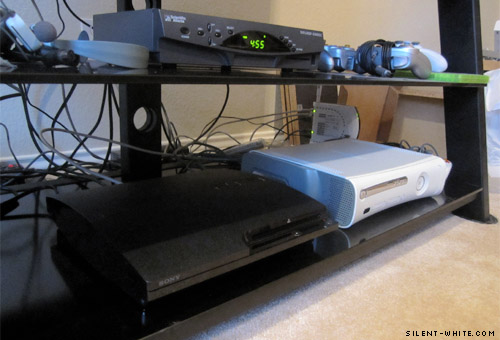 And so, we welcome the PS3 to our family of gaming systems.
Downstairs: Xbox 360, PS3, his Wii
Upstairs: my Wii, PS2, my PC, his PC
In other news, I've started taking days off of work and won't be back until January. My brother goes to grad school out of state, so he's back in town to visit. I plan on just spending time with him and my parents. It'll be nice to relax and keep things simple. Incase I don't post again in the next few days, I hope everyone has a happy holiday!