On Sunday… we cleaned the turtle aquarium and replaced the water.
me: Whoa, that water level seems too high.
fiance: I think this is normally how high we fill it. Should I take some water out?
me: I don't know… Maybe…
On Monday morning… I get out of bed and head to the kitchen for breakfast. That's when I noticed on the kitchen floor…
TURTLE ESCAPE. Sigh, silly turtle. Where do you think you're going?
In other news, my fiance built a new computer, and his shiny new parts make me jealous. (He even got SSDs! Do want!) It made me want to upgrade a few parts in mine too. However, it seems I'm not allowed to. My computer has been better than his, and he wants to bask in the glory of having the better computer for a while. (Nah, we're not competitive at all. /sarcasm) So instead, I ordered a new monitor: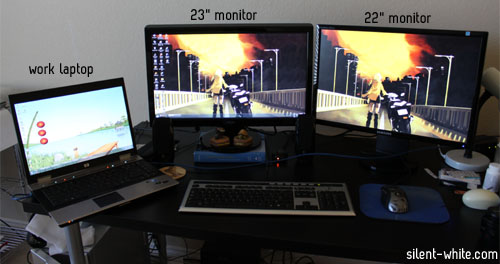 I already had dual monitors before, but one was 20″, and I wanted a bigger one. This new 23″ is a 16:9 resolution, a trend I'm noticing. It seems monitors are matching TV resolutions now? Kind of annoying for gaming! It's great for games that lock on vertical length, showing more on the left/right if you have a wider screen. It's not good for games that lock on horizontal length, which cut off top/bottom.
Other than that and being busy with work, I've also tried some awesome food lately. Perhaps I will make a food post later =)