New gaming
Guess who got the 3DS? I did! I have photos and a review over at my gaming blog :3
New dress
I've been really busy with wedding stuff lately, and it's kind of stressful. I go to work during the day, and when I come home, wedding planning feels like a second job. A tip for any future brides! Plan as early as you can! Don't procrastinate like me!
But, I have another thing out of the way now. Over the weekend, I ordered my wedding dress! I decided to go with the Revi by Robert Bullock. It comes with no sash, but I'm probably going to add one for a bit of color. Here is a close up of the lace/beading detail.
I found that at the 3rd wedding boutique I went to. I went to 2 small ones and 1 big one. I have to say… the small ones are so much better. They might have a smaller selection, but because of that, I feel like they pick out better dresses to show. Not to mention, their service was wonderful. My consultants at the 2 small places were so nice and much more helpful.
New lens
I've been shooting a lot of wide angle lately, so I decided to get a better and wider lens. I bought the Sigma 10-20mm (for Canon)! Since I've been busy, I haven't had a chance to actually use it yet. I took a couple quick shots of my sewing room as an example though.
This was taken at 18mm, my widest lens before.
I took this one while standing in the same spot. It's at 10mm on the new lens.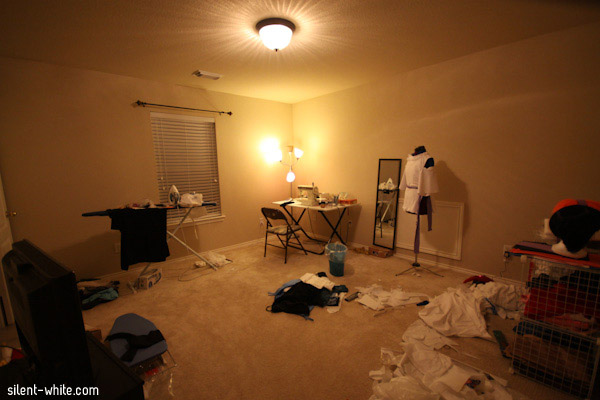 See how much more fits in the photo? That's ridiculous! I'm really excited to try out this new lens XD
The next "new" thing I need is a haircut. It's been getting hot here lately, and my long hair is driving me crazyyy >.<