We have 5 pet turtles, and my fiance and I noticed a couple have been really restless lately. They are usually more active during the summer, but… they've been really hyper and have escaped multiple times from their aquarium O.o;; We realized that they might be at the age to lay eggs. We have an extra empty aquarium, so we filled it with dirt and have been putting one turtle in there at a time, to see if they'll dig around and lay eggs.
Well… what do you know…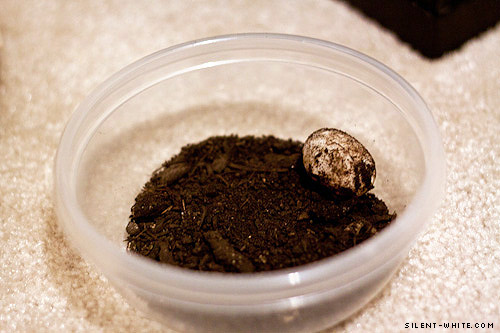 It's a turtle egg! Unfortunately, this one is damaged, which is why we took it out of the aquarium. For some reason, the turtle laid this one at the surface instead of burying it in the dirt. Turtles are able to lay infertile eggs, so we're thinking that they're all infertile. Why? Well… let me introduce each turtle.