I've been doing a lot of cake baking lately, which includes making a cake for my husband's birthday. If you've been following this blog for more than a year, you might remember that I make him a special video game cake every year. I choose something from a video game and… turn it into a cake!
This year, I chose Rush Jet from the Mega Man series: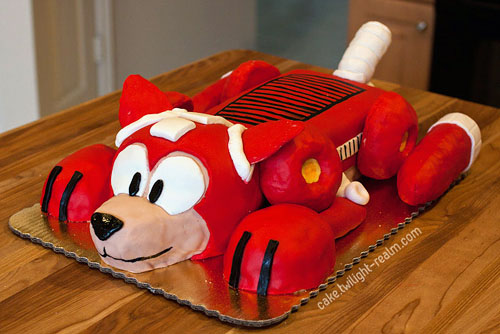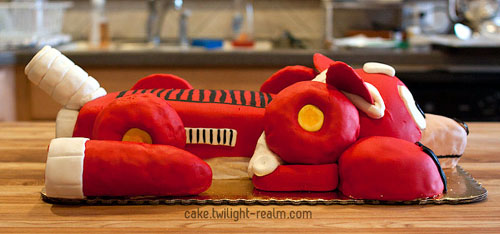 He is made from lemon-orange cake, rice krispies, frosting, and fondant. His head, body, and 2 paws are carved from cake while the rest is molded from rice krispies. They're then frosted and covered with fondant. This is my biggest cake so far. I actually worked on it for 4 days XD;; If you'd like to see my cakes from past years, please see my new site: Yummy Pixels.
While we're on the topic of cakes, I'd also like to recommend a few things that I find really useful for baking cakes or cupcakes.
Decorating tips and piping bags
As they say, "you eat with your eyes first", right? These are an easy way to make your cakes look better. Plus, I like having the big tips for cupcakes because you can frost them really quickly. You can usually buy a decorating set to start you off with some tips and bags.

Bake even strips
If you've ever baked a cake, you might have run into the issue where the center rises higher than the edges. My friend introduced me to these bake even strips which solve the problem. It makes the cake bake evenly! You soak the strip in water and leave it wrapped around the cake pan while it bakes.

Beater blade with edges (New Metro Design)
I love my stand mixer, but the flat beater it comes with doesn't touch the side or very bottom of the bowl. I end up stopping once in a while to scrape it down. This beater replacement has a soft edge that will scrape the edges and is also low enough to mix the little dimple at the bottom of the bowl.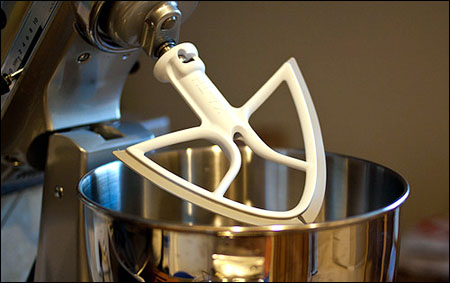 I also use a few other things for decorating cakes. I might write another entry about them later :3