I hope everyone had a good day yesterday, whether you celebrate Valentine's or not :) I got a nice surprise yesterday. It wasn't from my husband though. It was from my wedding photographer who sent me a short video of our wedding. You can view it here if you'd like!
That reminded me that I've been wanting to write about my wedding planning experience. I learned that it's more stressful and that I cared about the details more than I originally thought. I'm not the type who had a "dream wedding" in mind or thought about it much beforehand. I am, however, the "perfectionist" type, which made me very particular about what I wanted at the wedding. If I had to offer some words of advice, they would be…

It's not all about you
As much as I'd like to think it's all about the couple and that it's my big day, our parents have also been waiting for this day as much as we have. I had a fight with my parents over a decision, and in the end, I gave in to their request. It's their big day too. After the wedding, my parents kept telling us everything was perfect. Hearing that made all of that stressful planning worth it.
DOCUMENT EVERYTHING
I cannot stress this one enough. There are so many things to keep track of, that you should find a method to document them all.
Docs for guests and responses. Docs for registry gifts – who gifted it, what it was, and whether we sent a thank you note yet. Docs for vendors – who we talked to, deposits, due dates, etc. I would say it's better to go overboard than not write down enough!
Personality matters, even with vendors
I realized this when I was speaking with a potential caterer over the phone, and I found him very annoying. I told him we weren't interested before we even met to do a tasting. Of course, you should like the work they do, but be sure you like their personality too! You have to keep in touch with them after all.
Be realistic with your budget
I think it helps to do your research before determining your budget, and there will be less surprises when you meet with vendors. Before I starting booking things, I looked up vendors online; I went to a wedding expo; I bought wedding magazines. I managed to make a cost estimate early on that was close to what we actually spent.
Figure out what's worth your time
Time is money too, and I knew I'd be busier the closer it got to the wedding.  Sure, I could make my own centerpieces to save money, but I personally didn't want to worry about it. I thought it was worth paying my florist to do it. I did other things on my own though, like designing our invites and making our guest favors.
Not everyone has the same style and tastes
I had several people give me suggestions and recommend their vendors, many of which I didn't really act on. I mean, I loved their weddings, but we all have different ideas of what we want, you know? I did actually find some of my vendors thanks to recommendations from friends, but only from a few that I knew had very similar tastes to mine.
Smile and enjoy!
It rained on the day of our wedding, which made us switch to our "plan B". I just had to tell myself, it doesn't matter that not everything goes according to plan. That's not the most important part. The most important part is that I'm getting married and get to share the occasion with close family and friends. My guests aren't going to know when something doesn't go perfectly, so I should just enjoy the moment and let it go its course :)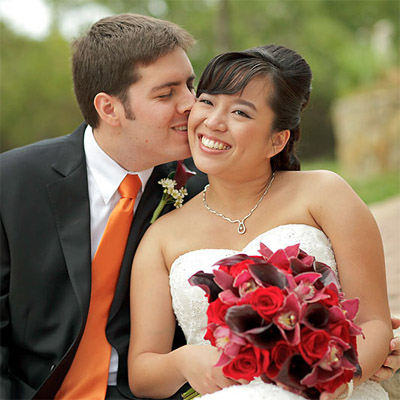 * Photo and video thanks to Doberenz Photography!