Recently, I decided to decorate cakes more often, though I wonder if that's really a good idea. Here I am, trying to eat healthier, yet I always find myself eating the cake scraps that fall off the cakes I carve. It's so hard to resist. I mean, the scraps end up being thrown away, so… might as well not waste them, right? XD;;
I've mentioned before that I make a video game cake for my husband every year. (You can view them on my cake site.) These fondant cakes are very time consuming, usually taking me 3-5 days to make. Because of that, I've only been using fondant once a year, just for his birthday.
Well, let me back up a bit, since I often get asked what fondant is. My simplest answer is, "fondant is like solid frosting." It's mostly sugar (like frosting) and is totally edible, but it has a clay-like consistency. This lets me roll it out and cover cakes with it, giving the cakes a very smooth look.
And so, I've decided to start making fondant cakes for other family members too. They're not as elaborate as the ones I make my husband. These simpler ones typically take me just a day to make.

Last December, I made one for my mom and brother's birthday. I made it look like a wrapped present with ribbon, a bow, and a gift tag. My mom thought it was real fabric at first, but all of the decorations are actually fondant :)
I even used a nifty trick to alternate the frosting colors in the middle, making it striped. It's really easy to do actually! I'll have to blog about it another time.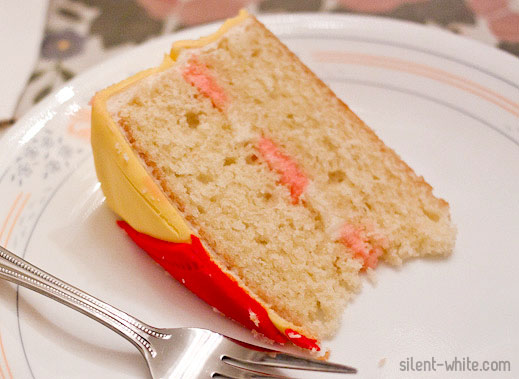 Just last weekend, we visited my husband's family. It was his mom's birthday, so I made another simple fondant cake. This time around, I wanted to attempt gumpaste flowers. Gumpaste is similar to fondant, except it dries a lot harder, making it great for decorations like flowers.
The blue part and the flower silhouettes on the side are fondant. The flowers on top are gumpaste.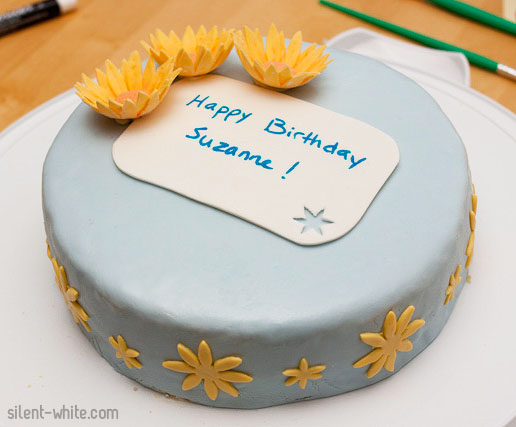 A closer look at the gumpaste flowers. This was my first time using gumpaste, so I still need practice on making them more realistic looking ^^;;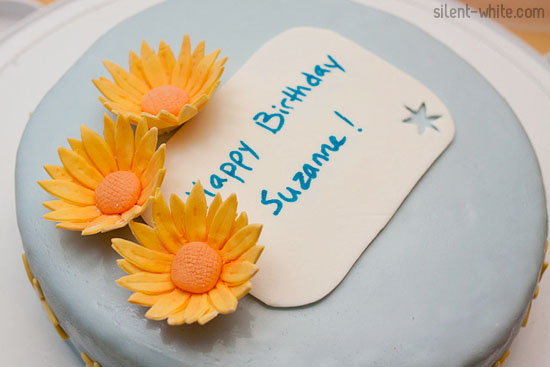 Now I can cross out "make gumpaste flowers" on my list of cake-related things I've always wanted to do. Another thing that's on the list? Make a 3-tiered cake. It hasn't been practical yet, since it's a lot of cake, and I don't have a van or SUV to transport one in, but… perhaps one day, I'll find an excuse to make one ;)