I'm back from AnimeFest! I'll have another entry about it later because I'm a little backlogged on getting photos up XD;;
Lately, I've been thinking about building a new computer. My current one turns 4 years old next year, and I was planning on upgrading every 4-5 years. Plus, I'm jealous. Last year, a few friends built new computers with shiny new parts and SSDs. One of them is my husband, and I can't help but be annoyed that he can start up the same game after me but have it up and running before me.
And so, I've been looking at computer cases. Choosing the case is one of my favorite parts of building a computer, because it's like playing dress up with it ;) This is my current computer case.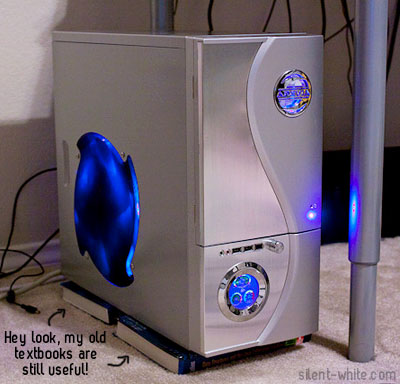 I love the sleek silver look and the shiny blue LEDs. I'm kind of sad to let it go! The reason I'm not re-using it is because I've decided to keep it intact and give it to my brother. He's been wanting to play Diablo 3, and my computer can still play it (and other current games) with no problems.

The problem with choosing a computer case is that… I think so many of them are ugly D= So many are black and boring. I also don't like the black/red combinations that seem to be common.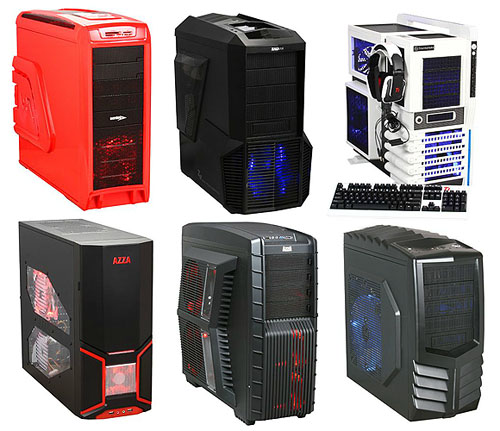 While some companies tried to make girly cases, they're um… too pink.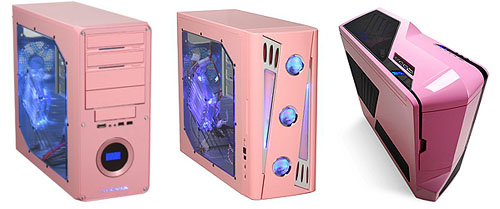 Oh, and some end up looking like a Transformer.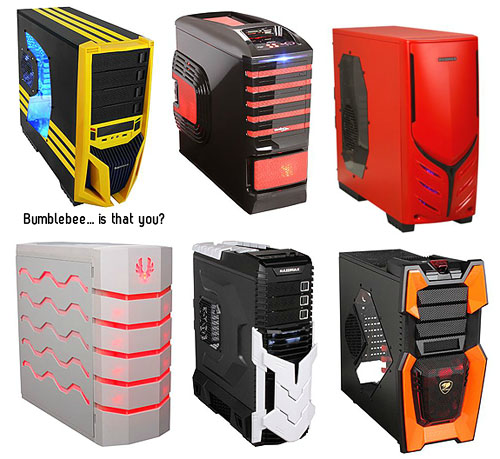 I wish there were more metallic looking cases! Like silver! Or metallic blues and greens! Of course, with a bunch of lights too. (Yeah, I really like shiny things.) But sigh, I think I'll end up with a black case anyway. I'll make sure it has blue lights at least ;)
Oh, and I saw this meme from Squidoo going around. Since it's on topic, I'll do it too!
Which do you prefer, laptop or desktop?
I used to only use laptops, but I prefer a desktop at home now. I still use laptops for traveling and work though.
How many computers do you have in your home?
7 total. We have 3 desktops, 2 laptops not in use, a netbook just for travels, and my work laptop.
Where do you keep it?
Our game room has our main desktops (mine and my husband's). We put my husband's previous desktop in the guest room. The laptops are in random places.
PC or Mac?
PC – I'm a PC gamer.
Make?
Cat, Inc ;) In other words, my computer is custom built. I ordered all of the parts separately, and my husband and I put it together.
What is your processor (AMD, Intel, Celleron etc.)?
Intel
How much Ram do you have?
6GB
How much hard disk?
I have 3 internal hard drives, making it 4TB total. 1TB for my main drive, 1TB for photos (RAWs take up a lot of space), and 2TB for making back-ups.
Operating system?
Windows 7 and Windows XP. My main drive has 2 partitions, so the main one is on 7, but the recovery/repair one is still on XP.
How old is the oldest computer in your home?
I think one of my laptops is from when I started college? So like… 2003, about 9 years old.
Do you watch movies/television on your computer?
Not often, but I'll stream Netflix on it sometimes. I prefer to stream to the TV through the PS3 or something though.
Top three favourite games?
This is a toughie… let's go with… Portal, Mass Effect 2, and Dragon Age: Origins.
Webcam?
Only on the netbook and never used.
Most used program?
Probably Chrome since I have it up all the time.
Browser of choice?
Chrome for casual browsing. Firefox for debugging website stuff. (I know Chrome has a dev tool, but I still prefer Firebug.)
When are you going to upgrade?
Maybe next year!