Well, I've mentioned my team winning in our company hack-a-thon a couple times now. Now that our project has been released, I think it's about time I talked about it since people were curious :) Including me, there were 3 people on the team, and there's been something that we've have been wanting to do for a while: make our community mobile friendly.
Some background: our company makes an IT software (inventory, help desk, etc) and an IT community. While the software has a mobile app, the community had no mobile-friendly view, and it really needed one. Trying to browse it on any phone was a frustrating experience.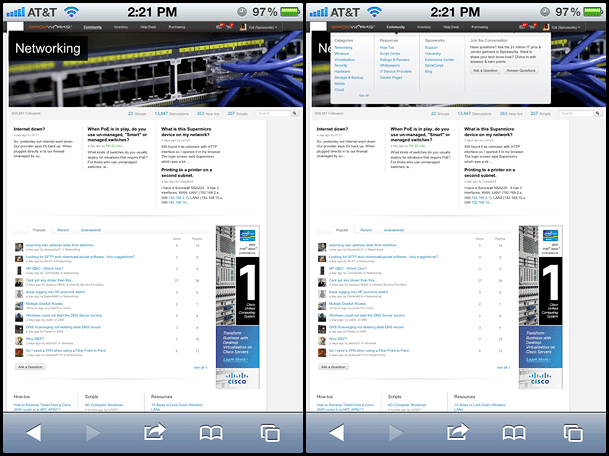 The community has (I think) seven teams currently working on it, and every team maintains multiple features. This presents 2 problems:
1. The community is huge, and no team had time to make the entire thing mobile friendly.
2. Maintenance – how do we make sure each team maintains the mobile version of their feature?
Long story short: we made a mobile-friendly view for the community, which should be easy to maintain. If you're interested in learning more details, read below the cut! If you just want to check it out, view here on a smartphone.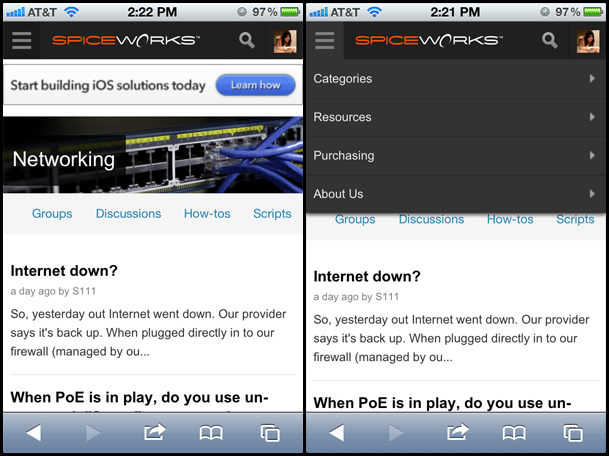 Covering the community: This really just took time. We got a week during the hack-a-thon, and it was the only thing we worked on during that time. The 3 of us even worked weekends and after hours. After we won, we got a release period to finish it up (2-3 more weeks).
Maintenance: We wanted a responsive design, though it isn't a "true" responsive one yet. Currently, whenever we detect a smartphone user agent, we load extra CSS and Javascript to style the existing site to a mobile-friendly design. This means we would not have to maintain a separate site or a separate mobile app.
We figured out the common layouts and styled those, so as long as our colleagues used an existing layout, they're mostly covered. We also added Javascript helpers that automatically changed elements to mobile friendly ones, so they wouldn't have to worry about those either.
For example, tabs that are too wide automatically get converted to a drop down menu.

Paging automatically gets converted to large, easy-to-hit buttons with a drop down for specific pages.
Long lists turn into collapsible ones that slide down, so that they don't take up so much room.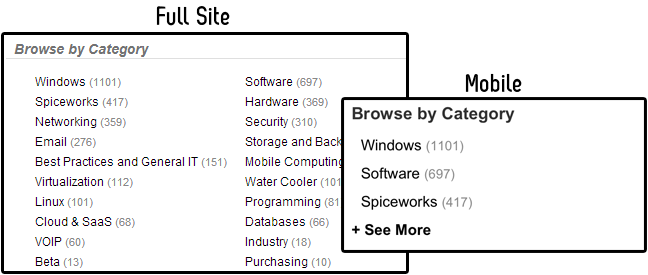 Testing across phones: If you think testing in multiple internet browsers is a pain, imagine having to do that with different phones and mobile operating systems. Testing and trying to fix issues on the different phones we tried was a nightmare.
– iPhone: We actually didn't really have issues with iPhones, even older ones on an older iOS version. Things just worked. We didn't have to worry about how it worked on the iPhones that much.
– Windows: We did have issues with Windows phones at first, until we realized we had this weird IE meta tag set that was screwing with how Windows phones saw our site. After we figured that out, I don't think we ran into many other issues (except for one specific Windows phone that I won't go into).
– Android: was the hardest to deal with, and a lot of our issues were in the default browsers, which is not Chrome. Usually if we saw an issue in the phone's default browser, we didn't see it in Chrome (on the same phone). And well, we can't assume that all Android users use Chrome over the default. For example, we saw formatting issues, scrolling issues, and the wrong device-width being returned.
Though the project is released, there are still features we need to cover and bugs we need to fix. I'm just glad we actually released with it, since not every hack-a-thon project gets to go to production. We've been wanting a mobile view for a long time, so it feels good to finally get it done :)