Cake decorating is a hobby that I do on and off. (See my works.) It came about after I watched way too many cake shows on TV, and I just kind of taught myself over the years. Though I show off my fondant ones, I actually use frosting a lot too. Here are a few tips on getting pretty cakes with frosting instead of fondant :)
1. Crumbcoat
I always crumbcoat my cakes, whether I use fondant or frosting. A crumbcoat is a thin layer of frosting that traps in the loose crumbs. After your cake is fully cooled, apply a thin and smooth layer of frosting, then refrigerate for about an hour.
What does this do? First, the crumbcoat seals in the cake's moisture. Second, after you take it out of the fridge, you'll notice it turns into a solid layer with the loose crumbs stuck in it. It gives you a smooth surface to do the rest of your frosting.
2. Homemade frosting
Not only does homemade frosting taste a billion times better than any store-bought frosting I've ever tried, but I also find it easier to spread. Need a recipe? I recommend this one.
3. Icing spatula
If you don't have a long, flat icing spatula, I would definitely get one! They are great for getting a smooth look. You can find different sized ones in the cake aisle at craft stores.

4. Pile on the frosting
I like to put a bunch of frosting on the cake before I start smoothing it out. I find this easier to do than just putting a little on at a time. A thicker layer of frosting will also be easier to work with than a thinner one.

5. Level your cakes
Cakes often dome up in the center after they bake, which is caused by the edges baking faster than the middle. I always level them off afterwards if they do. I just use a serrated knife (like a bread knife) and cut off the excess until it's flat at the top.
Sometimes I don't need to do that though. I now use "Bake Even Strips" around my cake pans. You soak them in water, then wrap them around your cake pan and keep them on while they're baking. This will prevent the edges from baking too fast, thus preventing the middle from rising higher.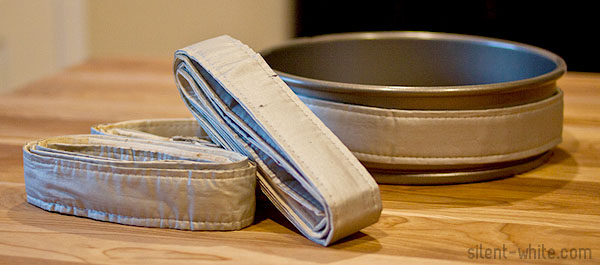 6. Icing colors
This is really food color, but it comes in a large variety of colors. If you're frustrated with mixing colors with the basic red/blue/yellow/green food color, try looking for icing color instead at a cake or craft store.
7. Frosting tips
If you're new to frosting tips, I think the star patterns are the easiest to work with. You can often find a beginner's set with a few different tips. Practice on a plate until you're comfortable with it, and then try adding some decoration around the edges!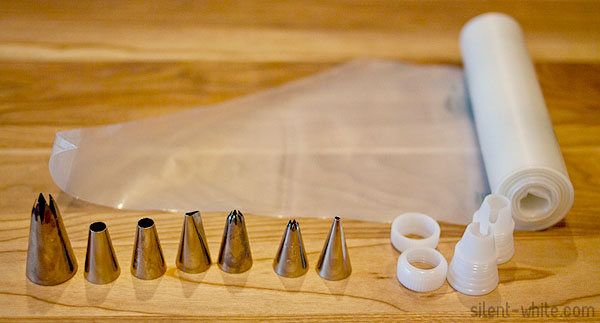 8. Gumpaste
Gumpaste is similar to fondant, but it dries harder, which is good for making decorations. It's edible and has a clay-like consistency, so you can just work on it with your hands. To add some extra cake decorations, you can try making some with gumpaste :) Remember to make them at least a day early, so they have time to dry and harden.
Here are a couple cakes I made using all of the above tips! (The roses are made with gumpaste.)