I'm back from my week-long trip to London! I didn't mention it prior to leaving because it was a business trip, and I literally didn't know my work schedule for it until the day before I left. I kind of went without much of a plan. This was supposed to be an entry about it, but I took a lot of photos and don't have them ready yet.
So… next time! In the mean time, here are a few things I've been obsessed with lately :)
1. Cider
I don't often drink alcoholic drinks, and that's mainly because I haven't found many that I like. I don't like beer or wine (some are ok, but I don't enjoy them enough to drink them) and cocktails are hit or (often) miss for me. But ciders! Oh cider, I finally found an alcoholic beverage that I truly enjoy.
Every time my husband and I go to the grocery store now, we try to grab a cider we haven't tried yet, whether it's a different brand or flavor. The Woodchuck and Angry Orchard brands are my favorites so far, but I still have a lot of the more expensive ones to go through.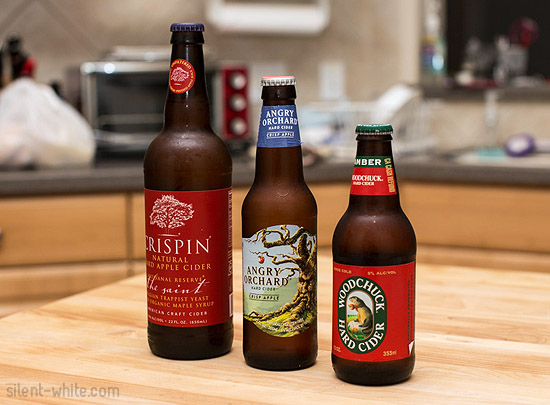 2. Shelves
This is an odd thing to be obsessed with, but I've been on a cleaning and re-organizing spree, and shelves have been the answer to most organizational problems I've had. Within a short time span, I've bought and assembled 4 shelves and re-decorated another I already had.
I already wrote about most of them, but I moved one to the guest room, bought 3 for the game room (2 for manga, 1 for photography gear), and bought 1 for the family room. I'm a big fan of the Cubeical shelves! I want more!
3. Blumenkranz
Blumenkranz is a song on the Kill la Kill soundtrack. It's a song with German lyrics, sung by a Japanese singer, and for a character who often speaks French phrases. (Confusing, right?) I really liked it whenever it came on the show, so I looked it up on Youtube. While reading the comments, I saw people complain about the singer's pronunciation, and there was mention of how "Paperblossom" does it better.
Disclaimer: The author of this blog does not encourage reading Youtube comments. It is hazardous to your health and can cause huge, inexplicable headaches.
Curious, I looked it up and found Paperblossom's Blumenkranz cover – a fan-made cover by someone who is actually German. Wow, that is a beautiful cover. I became obsessed and began listening to it multiple times a day, sometimes back to back. Eventually, I got to the point where I stopped listening to it daily, but once in a while, a coworker who is a fellow Kill la Kill fan will message me:
hey cat
hey
have you listened to blumenkranz today?
And then it begins again… (I've already listened to it three four times since the start of this entry.)
Anything you've been obsessed with lately too?