I finished one of my October goals! If you follow me on social media, you've probably seen it already, but here is my most recent cosplay. It is Rhyme from the DS game, The World Ends With You :)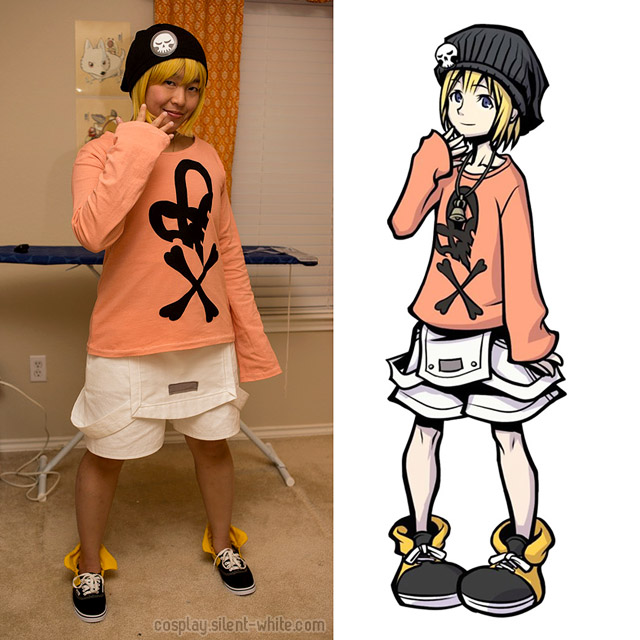 I'm pretty picky when it comes to accuracy when making my costumes, and probably even more so on simple ones. It's easier to spot mistakes when it's so simple looking! I decided to sew and dye the shirt myself because I couldn't find an existing one with the proper fit and color to alter. I also sewed the shorts and hat. If you're interested in the construction details, please see my cosplay blog!
Work has been pretty busy lately because we were coming close to a release date. Every time I thought things were going well, something would come up and change that. We also ended up doing a night release that started at 8PM and ended at 11PM. (Fortunately, we're able to do these remotely from home now.)
Even though it's Saturday night, I checked in a code change because it bothered me that I broke one of the builds. Fortunately, I do these things because I want to and not because I feel pressured to. Our work has flexible schedules that allow us to figure out what works for us (within reason). I know not all industries or jobs can do this, but when it comes to software developers in a tech company, I really feel like this is the way to go.
People who like to work in the mornings can come in early and then leave early. People, like me, who are not morning people can come in later and leave later. I mean, if I were forced to come in early, I would sit there being unproductive because I'm too tired to think. Instead, I can come in when I feel fully rested and get a lot of work done.
There are days where I don't work the full 8 hours either. If I'm at a good stopping point or have hit a wall, it's better for me to start fresh the next day with a clear mind. Then there are days where I work extra because of a deadline, so it balances out. Because of this flexibility, I don't feel frustrated or bitter if I work after hours.
But, I still tend to be a workaholic. I read an article that said many people are afraid of taking vacation because they're afraid of work pile up afterwards. This is pretty much me, especially since I'm a team lead. I don't check in code during a vacation at least, but I still check and respond to work email because I want to keep on top of things.
And so, I have the next two weeks off from work, and I should treat it as such. I'm taking a break from work, blogging, and most things online. I'll still be on Instagram so feel free to follow me and see what I'm up to. See you in a few weeks!