On 11/02 was our trip to Nara! It's an easy day trip from Kyoto or Osaka because it's only an hour away by train. Most people go to visit Nara park which is a large park with temples in it and many many deer.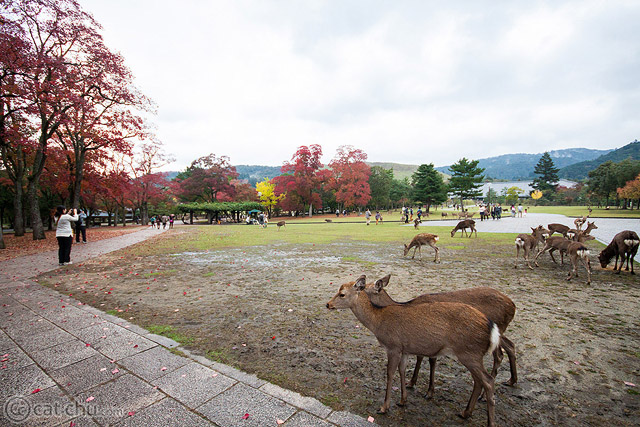 As we walked to the park from the station, we stopped to get lunch at Wakakusa Curry. We heard it was good, though it was a little hard to find! The curry was flavorful without being too rich, and it was especially tasty when mixed with egg and rice.
Shortly after we ate, the rain began to pour, and we had to take cover under some trees until it passed. When it lightened up, we were able to meet with our friends Robbie and Zerlina who flew in from Philadelphia! Robbie and I have talked about taking a Japan trip together for a long time, and we finally made it happen :D
I have to admit that the reason I wanted to go to Nara was to feed deer. They're all over the park, along with vendors selling food for them. Since they're used to people, they'll come up to you for food. (Sometimes a little too close. They don't have the concept of personal space!) Some will even nudge you with their head. Also, they bow to you! It's both cute and weird, and you should totally watch this short video of them bowing to my husband ;)
We returned to Kyoto later and felt we needed sushi again. It was disappointing that our last sushi meal was bad, and that needed to be corrected. We chose a conveyer belt sushi place near our hotel, and it was good! Plus, the chefs kept the belt constantly full and with a variety of pieces. Each plate had 1-2 pieces of nigiri, and between my husband and I, we pulled 20 dishes.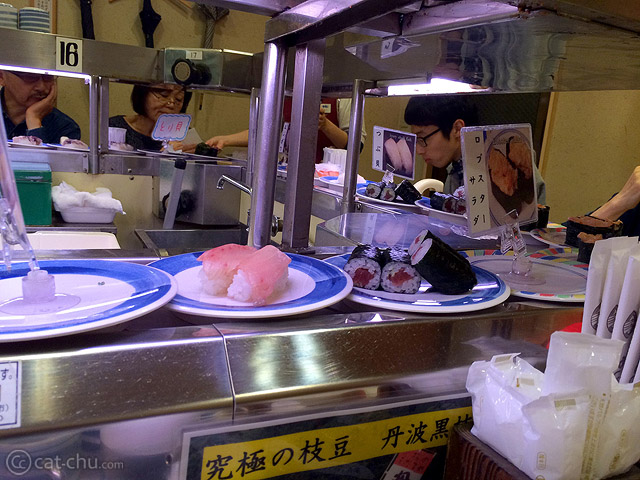 We thought it would be expensive, but this was our first shock at how cheap sushi is in Japan. It came out to 2800 yen (~$24). I had never paid so little for good sushi before!