Recently, I realized that every time I make goals for the year, they relate to my health (like exercise more) or to my hobbies (like play 30 games in a year). I don't typically make goals that better the professional side of my life, which doesn't really make sense. That's an area I work on improving too! Even though more than half of the year has gone by, I still wanted to set some goals relating to being a team lead, software developer, and photographer to accomplish before the year ends. Better late than never, right?
---
Finish a personal Ember project


A couple years ago when my work was deciding on a Javascript framework to use, we went with Backbone and Marionette. I became familiar with them after completing 2 Backbone projects, but then part-way through, we changed our mind and switched to Ember. My projects were already complete in Backbone, so it didn't make sense to rewrite them.
When I went to a Javascript conference recently, I felt behind the times in my little world of Backbone. Everyone around me was talking about Ember or Angular or React! I was disappointed in myself for not trying any of them yet. I went home feeling inspired and set up my very first Ember project… and then Anime convention season came around, and I've been busy with cosplay stuff. I'm hoping that after the next con, I can get back to that Ember project (which is a secret for now), and perhaps try the other two. One thing at a time though! Ember first!
Make code reviews a regular thing
Normally I try to take a little time to look over what developers on my team have written before the feature goes out. Because I've been busier lately, I've been doing less of it or doing them too quickly. Code reviews are important, and one of the best ways to help developers improve. I need to make time for them. They should be regular and more in depth than what I've been doing.
Not only that, but if I'm going to code review my team more often, I should be open to it as well. This is also a goal for myself to ask others to review my code.
Finish these books and then get more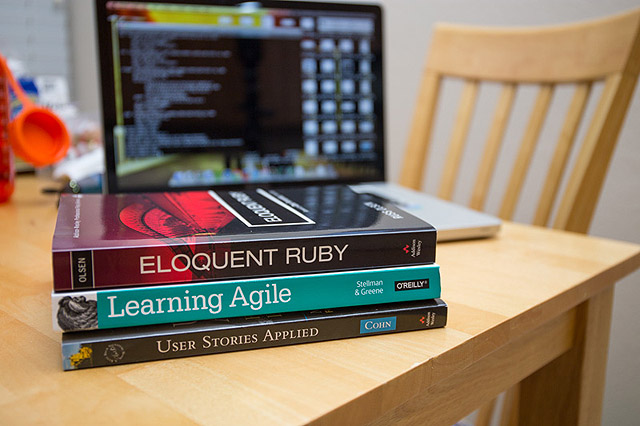 Eloquent Ruby has been on my to-read list for a long time as something to help myself as a developer. I've been using Ruby for many years, but there is much more to programming than just knowing the language. There's more I can do to improve my coding style, the way I approach problems, and how I implement things.
I bought Learning Agile and User Stories Applied recently but for the leadership part of my job. I've been a team lead for many years, mainly as a tech lead. We have a product manager who plans and prioritizes what we work on, and I oversee the technical part of getting them coded and released.
Lately, I've been given more responsibility and may be on the path to something more in my career. I bought those books to give me ideas on how to handle the projects on my team. We're already Agile, but we don't follow a specific methodology. I'm not sure if any of them are a fit for us, but I do think it's useful to learn them and be open to other ways of doing things.
Create a photography portfolio
This is something I've been wanting to do for a while, and I even have the domain for it already! I haven't been motivated because well… I haven't really needed it. People request my photoshoot spots months in advance, and when I'm not doing cosplay photography, I'm doing my own or event photography for my work.
However, I still want to have a photography site! It'll be nice to have a site I can point people to instead of my Flickr, and I've been holding off on photography business cards until the site goes up.
Join another stock photography site
Earlier this year, I decided to try selling stock photography and researched sites I could join. Flickr must have read my mind because right around then, I was noticed by the curators and received an invitation to Flickr marketplace.
Well, I gave it a try and… the Flickr program needs work. There's no submission process because a curator picks out your photos and then asks for your approval, and I feel kind of in the dark on what's happening to my photos. (These are the ones they curated.) I'm going to stay in the program, but I am looking for another stock site I can join too.
---
I only have a few months left in the year, but I kind of think the shorter time frame is a good thing. These are things I should really do sooner than later! Do you guys set any goals for yourself that relate to the work you do?