I wanted to cover 2-3 days every entry, but on day 4 (11/10), we did Road to Hana! We stopped by enough places that it deserved its own entry.
Our plans for day 4 were a bit more ambitious than we expected. Prior to our vacation, I looked up places to photograph in Maui and came across Iao Valley. It looked beautiful, so we started there in the morning.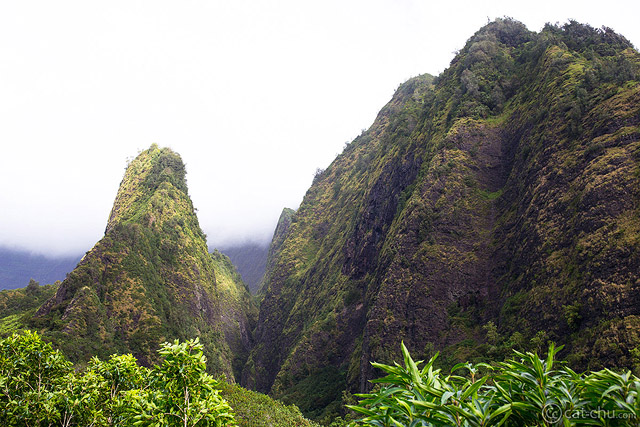 It was beautiful indeed! It was also kind of misleading as I thought it was a hiking spot, but the path was paved and very short. After we went up to the lookout area, we came across this sign: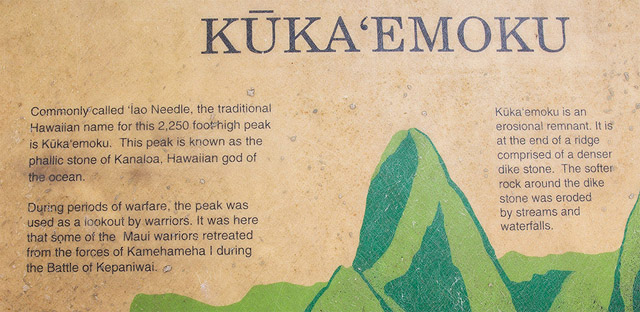 Yep. Phallic stone. Now I cannot unsee… well, uh, yeah.
So after that short stop, we started on the Road to Hana. In hindsight, we probably should have dedicated more time to it. The road is winding, and in some places, only narrow enough for one car, so it's a very slow drive. It takes close to 2 hours to drive from Paia to Hana, and you also want to leave enough time to drive back before the sun sets.
However, the point of the Road to Hana isn't actually to get to Hana. That's just what the road leads to, and most recommend going past Hana. All of the stops along the way are actually why people make the journey, and it's why it ends up taking many hours. There's amazing views, waterfalls, and parks all along the way.

So first stop! Shortly after we started the journey, we reached Twin Falls, which as you can guess by its name, is known for two waterfalls next to each other. And well, for some reason, I didn't take a photo of both waterfalls together. I think I was too excited at using the chance to try long exposure with a waterfall XD;;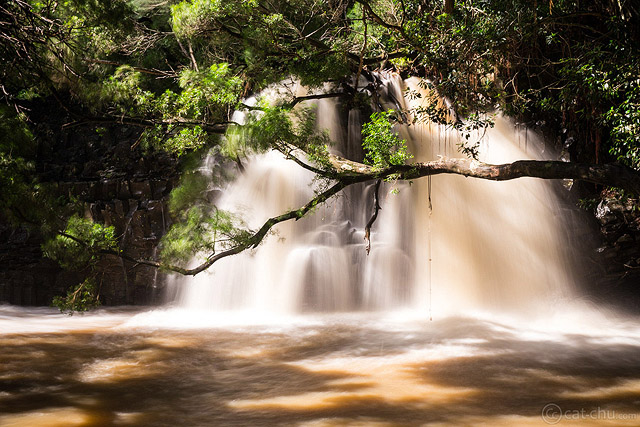 Our next stop was the Garden of Eden. At $15/person, I'm not sure if this stop was worth it, but it had some nice walking trails with views along the sides.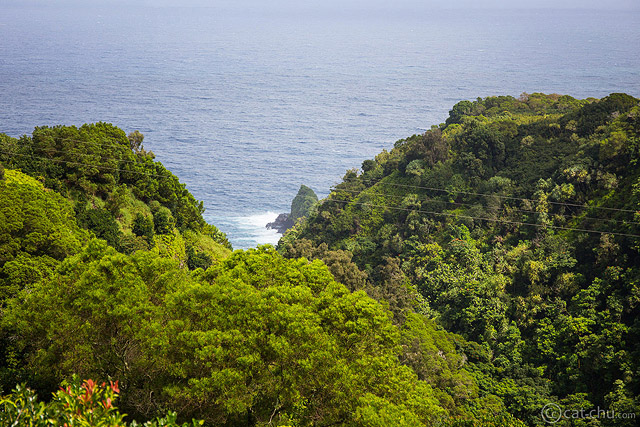 The Keanae Peninsula afterwards was worth the stop though. We drove down to the shore where there were large, breaking waves against the rocks. It was an amazing sight… and also another chance to do long exposures! (Yes, I love long exposures.)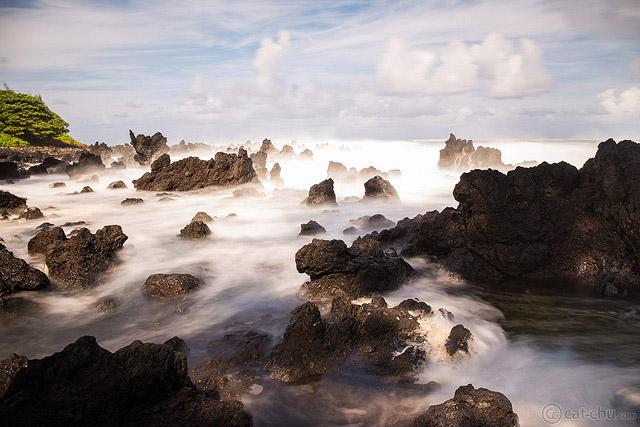 We made a few small stops after that at food stands and overlooks. During the journey, we were using the GyPSy phone app as a guide, which was super informative and worth the $5. As we approached Waianapanapa State Park, the narrator told us the legend of the cave there. Popoalaea, wife of a chief, escaped and hid from his cruelty in the freshwater caves until she was seen by her reflection in the water. This sadly led to her murder, and now tiny red shrimp appear in the caves during parts of the year, causing the waters to be red like her blood.
That… isn't a very pleasant story, and the narrator kept bringing it up as a recommendation to see the cave, which was kind of weird. We ended up nicknaming the place the "murder caves".
But! It was actually a really nice stop. The view was beautiful, and there were other things to see, like a blow hole and black sand beach. We also spotted a hiking trail that we some people were on. Well, we thought it was a hiking trail at least, but it never looped back around to the park. At some point, we just had to give up and backtrack. Great views along it though! (Note: I didn't end up taking photos of the "murder caves". The one pictured was near the black sand beach.)
Because of how much time we spent at the park, we decided to call it quits, even though we were very close to Hana. We knew that there wasn't really anything special about Hana and that we wouldn't have time to reach the spots past the town. We turned back, giving us enough time to drive back to the hotel before sunset. We ended the night with Japanese food at a restaurant called Izakaya Matsu!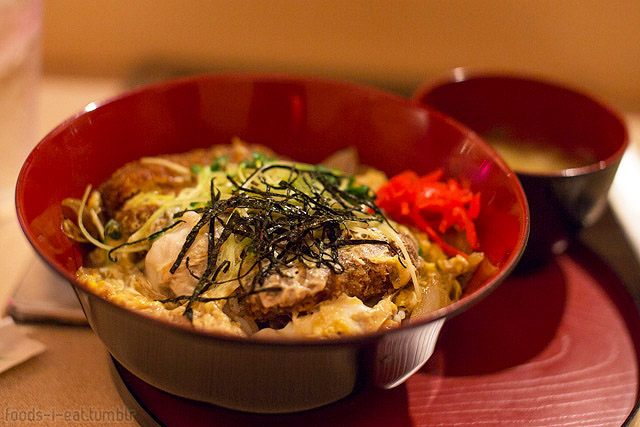 That's it for day 4! My next Maui post will cover some hiking trails and scenic places we went to :D