If you've been following my blog for a while, you might remember that back in 2014, I wrote about my husband and I buying the Oculus Rift DevKit 2. Back then, it was the major virtual reality (VR) system that people knew about, and now there are two: the Oculus Rift and the HTC Vive.
For those who aren't familiar with these, they run off of your computer, but the screen is on a headset that you wear. The goal is to make you feel like you're in the game since the headset is tracked, and as you move, your view moves too. Thus… it's a virtual reality!
It was a tough decision between the Rift and the Vive, and as the blog title suggests, we went with the HTC Vive. It came in earlier this week!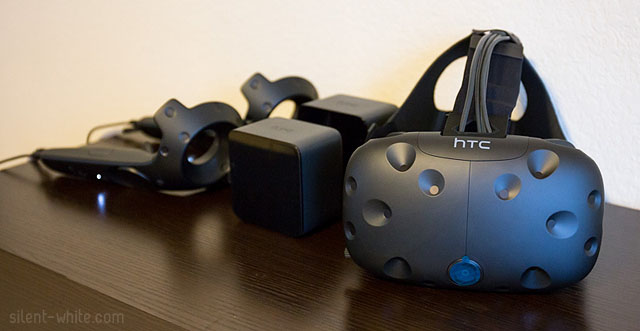 You'll notice a few things in the photo: two weird looking controllers, two boxes (base stations), and the Vive headset. The controllers and the base stations are the main reason we went with the Vive over the Rift. The base stations are mounted on a wall or ceiling, and they help the controllers and headset track where they are. This means… you can actually walk around and use your arms! This is something the Rift cannot do at the moment (but plans to later this year). Right now, the Rift only tracks your head movement, and any traveling is done with the joystick on a controller.