As the title says, Happy Halloween! I'll admit that I wasn't always excited for Halloween, but that changed after I started cosplaying. It gave me another event to make a costume for, and I can take advantage of the Halloween sales at fabric and craft stores. Plus, when people ask me what I'm making, I can say it's for a costume without feeling weird about it. Wins all around!
And that's the reason why I took a short break from blogging and blog hopping. I was working on my costume! I saw that my work's party and my friend's party were the Friday and Saturday before Halloween, and I realized I miscalculated and had one less weekend than I originally thought. I went into cram mode to finish it up.
If you've been following me on social media, you already know what I went as. I'm my trainer in Pokemon Go!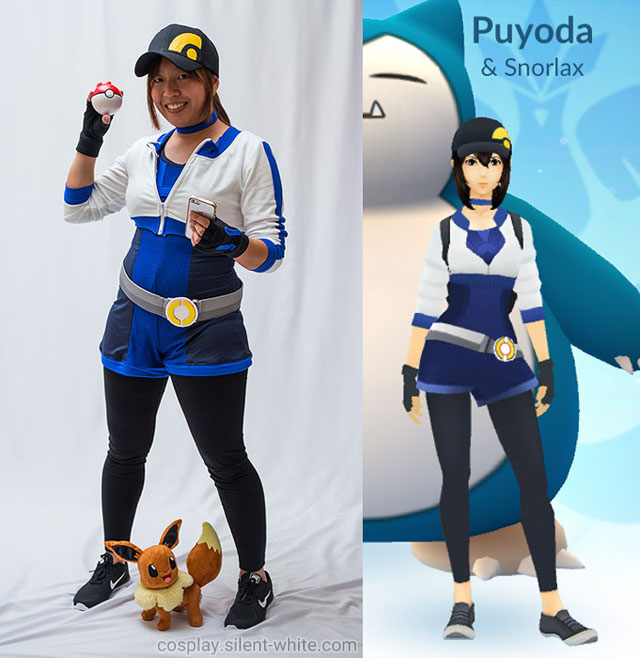 This one was fun due to Pokemon Go's early popularity, so many people knew what it was. I got a lot of nice feedback and also won runner-up in our work's Halloween costume party :D Several people asked me if I bought the costume or altered clothing for it, but I actually made most of it from scratch! My cosplay blog shows how I made the jacket, romper, gloves, and belt.
It's comfortable to wear, though it does suffer from a common cosplay problem. It's not a very practical outfit. I was tempted to wear it while Pokemon hunting, but it's too warm for the current weather. (Texas did not get the memo that it's autumn now, and I'm still wearing shorts and a T-shirt.)
It's also really inconvenient for using the restroom. First, I have to completely take off the gloves, jacket, and belt. Then I have to unzip the romper from the back before pulling it and the tights down. In other words, I'm removing every costume part except for the hat and shoes. I knew this would be an issue before making it, but sometimes sacrifices have to be made for cosplay!
I still really love this outfit, and I plan to have better photos taken of it later. I did manage to finish it a couple days early, so I went back to the craft store and bought some colored poster board for paper crafting. I made a few ghost Pokemon to hang up in the office!
For those who celebrate Halloween, have fun and stay safe! I have another busy week ahead since it's my work's user conference, and I'm helping with the event photography. I will make it around to everyone's blog soon! I also have my last two Japan trip entries mostly written which cover Yokohama and the Ghibli Museum, so I hope to post those next!