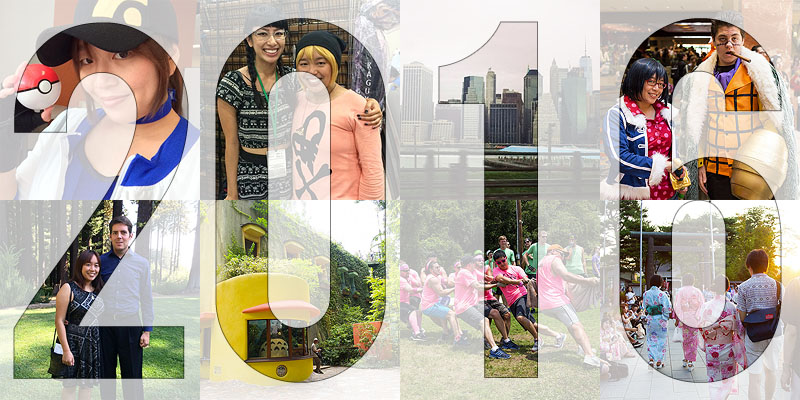 With 2016 coming to an end, this seems like a good time to look back on the year and how it was for me. Here is my usual year in review!
Life in General
I didn't have major changes in my personal life, but things did change at work. Last year, I wrote about how I was moving more into a management role, and in January 2016, I was officially promoted to a Development Manager!
Since I've been a team lead for years, most of my responsibilities didn't change. However, now that I'm considered a hiring manager, I have to deal with annual reviews, salary, promotions, and things like that. I also became a manager for a second team, so now I manage both a team of developers and a team of designers. Sadly, that means I have less time to program, but I'm still very active in code reviewing and mentoring developers, and I check in code whenever I can.
Hobbies
In 2016, I tried to do a "hybrid" of cosplay and photography at Anime conventions. Instead of filling my schedule with photoshoots, I only did a few and spent the rest of the time in cosplay. This meant I did less photoshoots than normal, but I did get to spend time making new cosplays at least!
I still have a couple shoots coming up, but so far, I've done 7 photoshoots – 6 at conventions and 1 as a private shoot:

As for cosplay, I completed 2 and a half costumes. I finished cosplays for Tashigi (One Piece) and my Pokemon Go Trainer, and I have a bit done for my next Tashigi cosplay too.
I also went back to making a video game cake for my husband's birthday after taking a 4 year hiatus from it. This year's cake features Ultimate Chicken Horse!
Travel
My first Japan trip was in 2014, and I decided to go again in 2016! This time, we went in the summer to be there during the festival season, specifically the Tanabata Festival in Sendai. We spent two weeks in Tokyo, Sendai, and nearby areas. My Japan category has entries on this!
I also took a couple short trips. I was in San Francisco in September for my cousin's wedding, and I was in New York in December for a funeral.
Other Notable Events
My husband and I built a small console PC to play PC games on the TV. We held many game nights with friends!
I attended PAX South for the 2nd time and met an online gamer friend for the first time, who I played online tournaments with.
I bought a treadmill and have been running more consistently since I can't use the weather as an excuse anymore.
I met a couple bloggers in person! I saw Michelle again at A-kon, and I met Tiff in person for the first time at San Japan.
I attended 3 Anime conventions (Ikkicon in Austin, A-kon in Dallas, and San Japan in San Antonio).
My husband caved and bought the Vive, which is a VR system.
My team got runner-up in my company's hackathon for making a custom A/B testing service.
Favorite Entries
Moving Forward
I set professional and gaming goals last year, but I didn't do any New Years resolutions. I think that worked out better for me because it's hard to set goals for an entire year. I do have a general idea of how I'd like to approach 2017 though, and I'll have a separate entry on that later! I hope 2017 will be a good year for everyone!