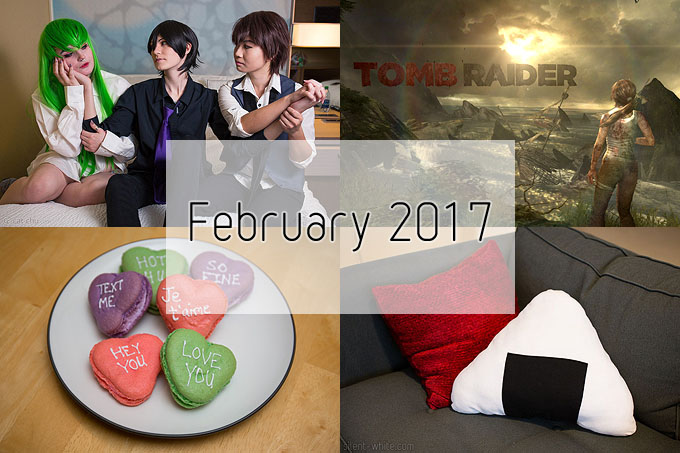 February was both a stressful and productive month, which consisted of a few late work days due to emergency hotfixes. (Yay for being able to work from home and do a production deploy from my couch.) On the bright side, my teams released with a few large features, so it was great to see everyone's hard work out there. I also took one of my teams out for a team outing, and that was a good stress reliever!
And of course, February is known for Valentine's Day. This year I baked heart-shaped mint chocolate chip cookies for my coworkers, and I bought heart macarons for me and my husband from our favorite bakery :) We also bought some marbled beef rib, which my husband cooked into gyudon (beef rice bowl). Aahh, we love donburi (rice bowls) so much.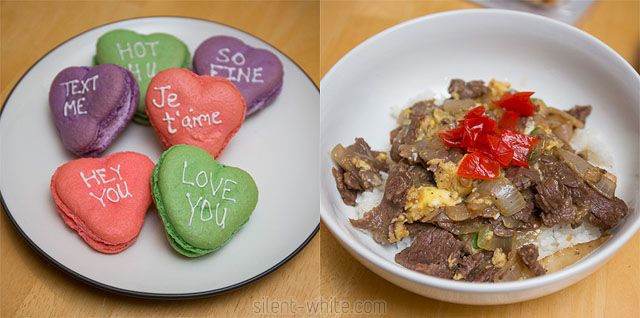 I've been productive with my hobbies too. On the photography side, I finished post processing my last photoshoot from a recent Anime convention, which was a Code Geass one:

I also finally joined a new stock photography program. I've been meaning to do it for the past year, since I wasn't happy with the other program I tried. I kept hesitating because I couldn't decide on which program to join, and I wasn't confident that my style fits stock photography. It's not that I question the quality of my photos. It's that every photography genre has its own style, and I haven't taken photos with stock photography in mind. It's a shift in style that I have to learn.
So, I took my first steps. I chose Fotolia/Adobe Stock because it's reputable, and I could use my existing Adobe account. I got my first photo approved already! I'm excited to give this a try during the breaks where I'm not doing photoshoots.
As for cosplay, I gave myself a fresh start by doing some cleaning. I cleaned my sewing room a bit and hand washed a few costumes and wigs I used recently. Then I did a quick project: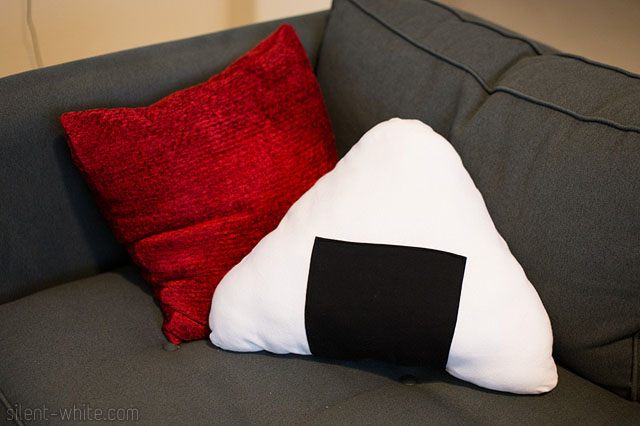 I made an onigiri pillow! I wanted to make one like Yuri in Yuri on Ice has :) It sits on my couch now, and it's sooo soft.
Lastly, February was a good gaming month. I finished Tomb Raider (PC), Rayman Legends (Wii U), and Firewatch (PC). Three games in one month! (Yes, one was very short, but whatever, it counts.)
As for my February goals:
Subscribe to at least 5 charities – Complete! I am now donating monthly to Doctors Without Borders, International Rescue Committee, Water.org, World Wildlife Fund, ACLU, and Planned Parenthood. The donations range from $15-30/month, totaling $130/month ($1560/year).
Finish going through the Ember guides – Almost! I completed both tutorials, but I didn't finish reading the other guides after them.
Draw something – Sort of but not really? I have an idea for a Haikyuu series of drawings and started with Iwaizumi, but I didn't like how it turned out. Time to try again.
Clean my desks – Complete! My work and home desks are still a bit of a mess, but I threw away a lot of things, wiped them down, and organized them a bit.
By the way, I'd like to point out that just because someone writes about donating to charities, it doesn't mean they're trying to guilt trip you. Do what you can. If it means volunteering time instead of donating money, then that's cool. If it means only donating a little bit, then that's great too. It all adds up, and even a bit of money helps charities/non-profits purchase the supplies they need. No need to get defensive about it.
Now for March goals:
Start an Ember project – Now that I somewhat have a grasp of it, I should apply what I've learned.
Clear out at least half of the "box" room – In January, I made a goal of unpacking everything in the "box" room, which I completed. Since then, I haven't done much with it. I need to really clean it up now.
I know it's only two, but those will take a lot of time. Now for the next month! I will be celebrating a few birthdays, mine included ;) I also have a short trip planned at the end of the month. Have good March, everyone!