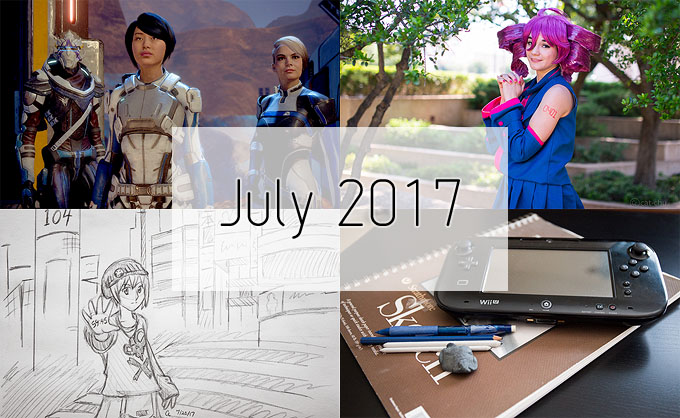 Unfortunately, July was not a good month for me, and if you follow me on Twitter, you probably saw a glimpse of it. Early in the month, I received some bad news that included needing a small surgery. It's something personal and hard to talk about, so for right now, I'm leaving out the details of it. I immediately took some time off of work to come to terms with it and to recover from the surgery.
After about a week, I still had some side effects and pain from the surgery, but I was well enough to do most things normally again. I started working towards getting my life back to a "normal" state. For about 4 days after the surgery, I spent most of my time lying down and just feeling crappy about the whole situation. It definitely took a toll on my mental health, and the moment I was physically well enough, I knew I needed to do something about it.
On the bright side, I had a close friend visit me shortly after I got the bad news. It was a trip she already planned, so the timing was coincidental, but spending time with her helped me feel sane about the whole thing. I also confided in another friend who I was able to talk in-depth with, which helped a lot. (You know who you are. Thank you.)

That time off gave me some time to focus on my hobbies, which I continued to do for the rest of the month. In terms of gaming, I made more progress in Mass Effect Andromeda (PC) and managed to finish 3 games: Professor Layton vs Phoenix Wright (3DS), Bayonetta 2 (Wii U), and Pikmin 3 (Wii U). I'm slowly making my way through my backlog!

I also finished post processing all of the photoshoots I did during A-kon (which is one of my monthly goals!). Here's a couple previews from each shoot. (More in my Facebook or Flickr album.)
One of my other July goals was to draw again. I'm very out of practice, so I used my own cosplay photos as reference and drew several quick sketches. I'm not actually happy with how they came out, but I'm still glad I did them. After all, bad drawings are better than no drawings, right?
On the other hand, I did finish a drawing I'm happy with, but I'm not showing it yet! Rezina suggested doing an art trade, and I loved the idea. I'm about to mail my drawing to her and will show it after she's had a chance to see it!
So, this is how my monthly goals ended up:
Start looking for new furniture to organize the house more – Unfortunately, due to the surgery, I ended up not doing this one.
Finish post processing all photoshoots – complete!
Draw something – complete!
Now for my goals for August:
Lose 5 lbs – I've gained some weight the past few months that I'd like to lose. I already lost 2 lbs this past week, so here's hoping I can lose 5 more in the upcoming month.
Fix my stand mixer – It's been broken since last year, and I actually have the replacement part. I've just been lazy about opening it up and fixing it. I miss using it!
Break down most of the boxes sitting in our closets – I've realized that a bunch of our closets have boxes we don't need anymore. I really should break them down to make room for other things.
Buy new furniture – I didn't do it in July, so let's try for August. I especially want to add some more bedroom furniture.
I'm hoping August will be a much better month! How was July for you?