*gasp!!!* You're viewing my first ever outfit of the day post. Yes, First. Ever. I've never really paid attention to fashion much nor was I ever proud of my fashion sense. I usually went for simple and/or nerdy things – pretty much your stereotypical nerdy shirt + jeans type of person.
Around the time I started working full time, I realized my closet was filled with nerdy shirts, most of which were black… because for some reason, like 90% of nerdy shirts are black. I figured, hey I'm a working adult, I should dress "my age," right? I worked on replacing most of them with simple tops, ones that are easy to dress up or down.
They were easy things to wear and match, but I was never in love with them. It's sad that it wasn't until my early thirties that I realized, screw it, I should just wear things I like. I really like cute things but used to be afraid that they'd be seen as too childish. Now I just don't care =P The past couple of years, I've been replacing my wardrobe with cuter pieces (mostly from Asian brands), and recently, I've been trying to support artists I like too. This brings me to my first outfit!
I've been following Omocat for a long time and have always loved her art style. An Omocat booth showed up at an Anime convention I went to, and I was so excited to buy my first shirt from them.
This is a short, boxy top from the summer 2017 catalog that is soft and thin. Yet, the fabric isn't thin enough to be see-through. Perfect for hot summer days! I wore it on Saturday when the weather was actually fairly nice but hot when in the sun.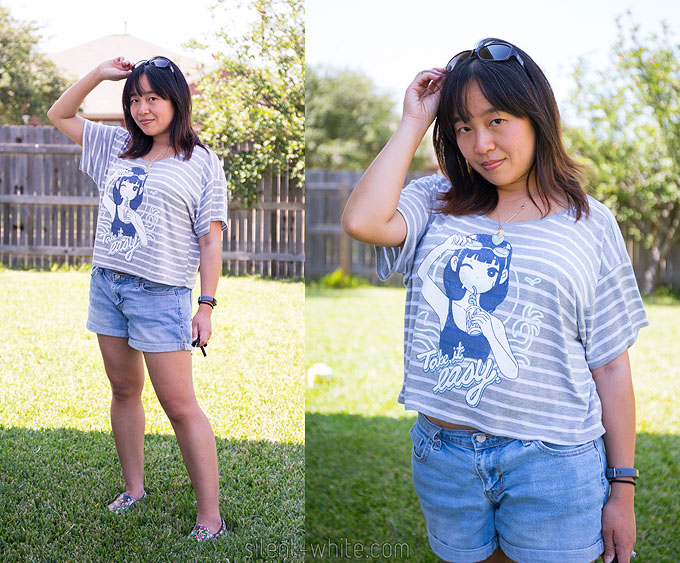 The shorts are from Old Navy, and the shoes are Super Mario Vans from their Nintendo collection. (I love these shoes so much.)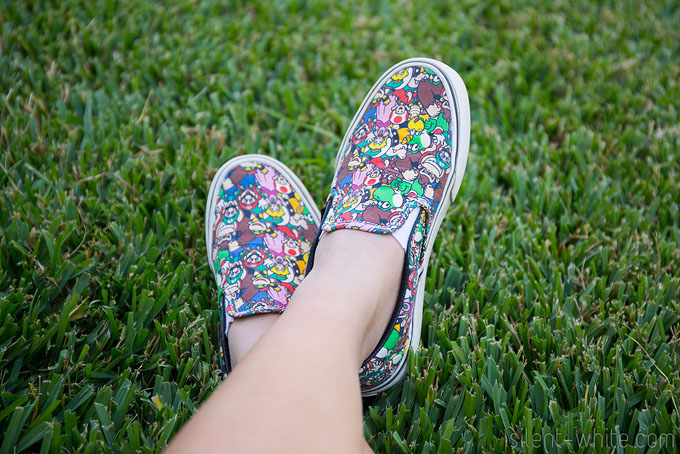 And because the weather and lighting was so nice, I dug my outfit out from the laundry bin that I wore to work on Thursday. Ikimaru is an artist I followed recently for her Voltron fanart. I especially love how she draws Keith, who is my favorite! This is a tank top from her Redbubble store.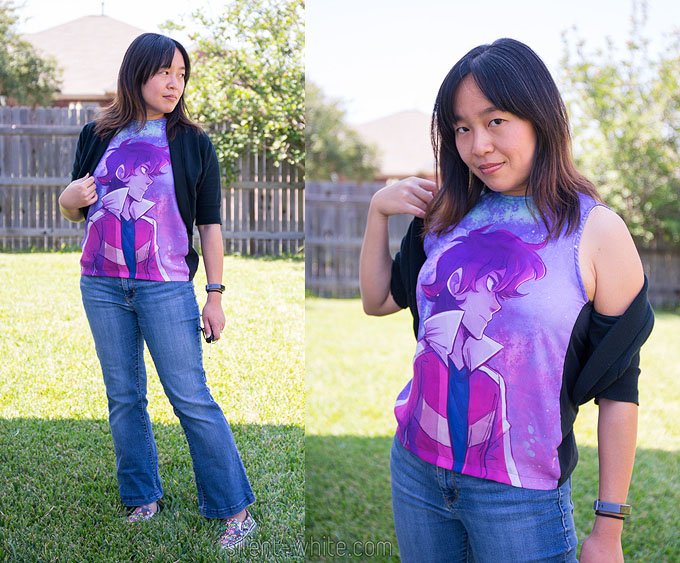 My office suffers from the typical "way too cold inside even if it's freaking hot outside" air conditioning. That's why I end up wearing long pants in Texas summers, and I tossed on a cropped cardigan for extra warmth. Shoes are the Super Mario Vans again! (Cardigan and jeans are from Target? I think?)
I would also like to point out that the washing instructions tell me not to slap pandas. Noted.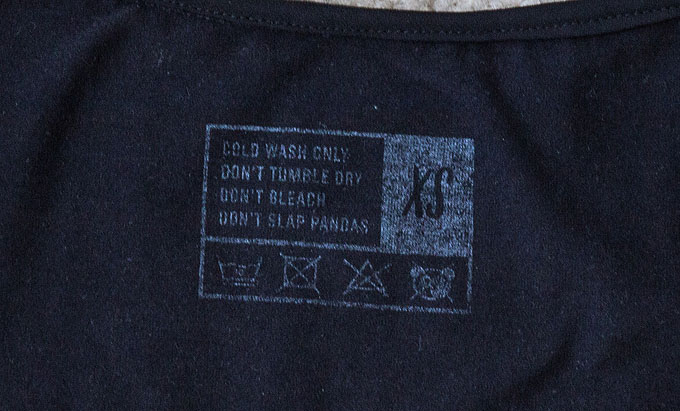 I realize that my outfits are boring compared to most bloggers, but I think I'll keep giving this a try. Maybe it'll motivate me to pay attention to my outfits more, and it's good practice on posing myself. (Funny how I'm used to posing other people when I'm behind the camera but not myself.) I hope to show more later on!