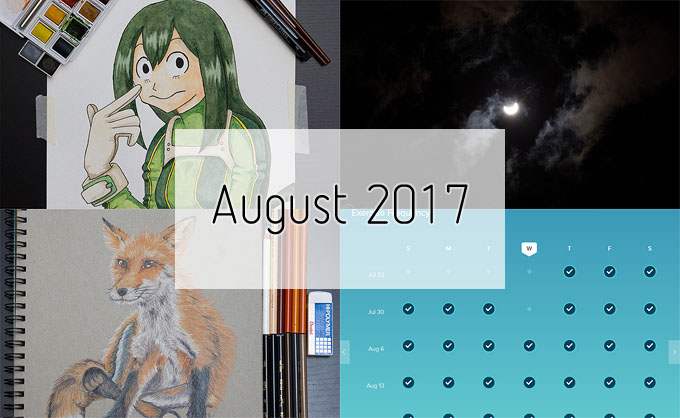 Compared to July, August was a much better month. If I were to pick a theme, it'd probably be healthy mind and body. I wanted to focus on maintaining healthy habits, and as you can see from my previous entry, I also wanted to revive a neglected hobby that I used to love. Some things I feel good about:
I exercised almost every day in August, mainly short runs (35-45 min) or long walks (45-70 min). I only missed one day due to a long dinner!
I ate better. I changed my breakfast, cooked lunches for work, and got in the habit of picking healthier options when eating out.
I lost weight in a maintainable way, without feeling like I was starving or depriving myself of things I like.
I finished one Prismacolor drawing and four watercolor paintings. I have another painting in-progress!
Overall, I've just been feeling good. The exercise and diet changes make me feel better about my body, and working on art leaves me feeling relaxed and happy.

As for other things in August, I think everyone knows about the solar eclipse. My area could only see a partial eclipse (about 65%), but I liked how everyone got into it! I actually had no meetings that day because my coworkers canceled or moved their meetings. When the max part of the eclipse was about to happen, so many people came up the top floor of the parking garage to check it out.
I wish I had a longer zoom lens and a stronger ND filter, but with my 10-stop filter and 24-105mm lens, I was able to grab some photos. I also remotely controlled my camera with my iPad, so I wouldn't have to look up. This one is probably my favorite of the batch!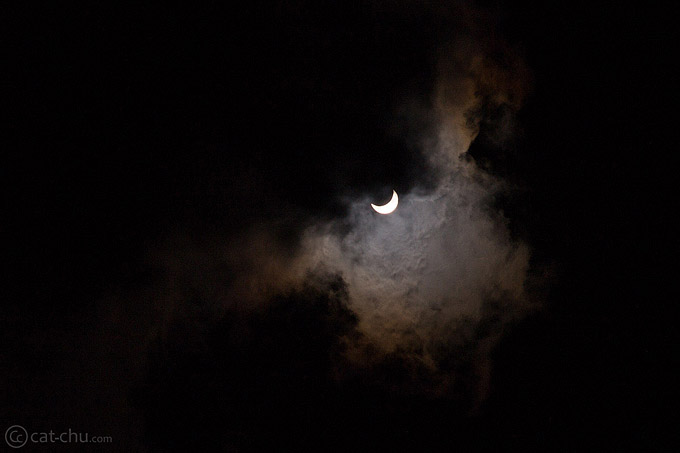 The other major thing was Hurricane Harvey. We experienced a lot of rain and power outages where I live, but the damage was very minor and we weren't flooded. It was nowhere near as bad as what Houston and the other east Texas cities got. If you're able to help, I suggest doing some research on places to donate. I know the Red Cross is always a popular one when disasters happen, but there are so many better charities out there that actually help more and put the money and supplies to better use. The Texas Tribune has a pretty good list, DirectRelief has a perfect score on Charity Navigator, and donating to food banks and shelters that are local to the affected areas really helps.
As for how I did with my August goals…
Lose 5 lbs – Close! I lost 4 lbs, which I'm happy with. I had a slow start where my weight kept going up and down for a couple weeks, but I eventually found my groove.
Fix my stand mixer – I didn't get around to this, and I'm disappointed in myself on that. I want to use my stand mixer again!
Break down most of the boxes sitting in our closets – Success! I still have more to do, but I've broken down a large chunk of them.
Buy new furniture – The weekend we planned to do this was when Hurricane Harvey came in, so we had to postpone. We will try again in September!
Now for my September goals…
Bake again – I've barely done any this year due to my stand mixer being broken, and my coworkers keep commenting that they miss my baking. I want to get back into this hobby, and of course, this also means fixing my stand mixer.
Repair and fine tune cosplays – It's been a few months since I last worked on cosplay, and I need to repair my Tashigi cosplay (the boot covers came apart and the wig needs re-styling). There's also a couple cosplays I want to revisit now that I'm better at making props. For example, making better long fall blades for Chell and a better bracelet for Phi. My goal is to work on at least one of those.
Donate stuff – I've been working on another pile of clothing and other items to donate, but it's just sitting there. I should… you know… donate it.
Hopefully I can get to all of those because I'm going to be busy in September! I'm doing photoshoots at a nearby Anime convention, and then I'll be visiting Seattle for a wedding. I hope everyone had a good August, and let's hope September will be a good one too!