Lately, I've really been enjoying getting into art again. It's been very therapeutic and relaxing, especially as I realize that it's ok that I'm not where I'd like to be yet and that I just need to keep practicing. I used to stress out about it, but now it's a nice hobby I can do on and off in my spare time. There's some art supplies that I've been really loving, so I thought I'd do a My Favorite Things around them!
Pentel Arts Pocket Brush Pen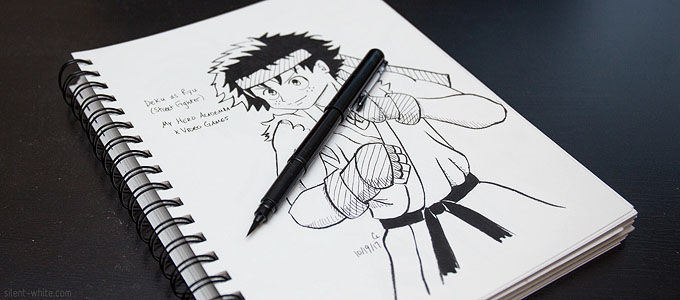 I came across this brush pen when I was researching supplies for Inktober, and it seems to be a popular item for many artists. $11-20 might seem like much for just one pen, but it's refillable, so it'll last you. (I bought a 12 ink refill pack on Amazon.) I love how smoothly the ink flows out of the pen, and the brush tip lets you make variable widths in your lines. It took me awhile to get used to it, but it's fun to use!
Copic Sketch Markers – Sketching Grays
I wish I had these for Inktober, but I ordered them afterwards because I wanted to continue working with ink. Though they're double ended, I've only used the brush tip. It's a good range of grays, and the ink flows and blends smoothly. I find them pretty easy to use overall. I love the result, and working in grayscale has been good practice too.
Winsor & Newton Cotman Water Colour Sketcher's Pocket Box
Ok, that's a mouthful, but it's basically a compact watercolor set. I was looking up a set for beginners, and this one was mentioned along with the Prima classic colors set. I bought both! However, as you can see in the photo, I use the Winsor & Newton set way more.
The Prima set might seem like good base colors to start with, but the colors that Winsor & Newton supply are much more versatile. I feel like I can mix a wider range of colors with the Winsor & Newton set, which lets me do a lot with very little. I do like the Prima set for when I'm too lazy to mix certain colors (like gray or black) at least. I think that both paints are high quality though, so it just depends on the type of colors you want.
Prismacolor Colored Pencils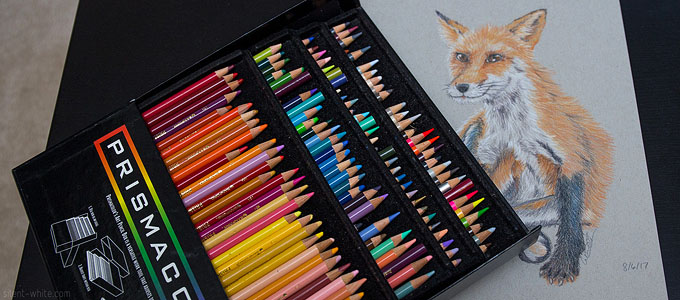 These have been one of my favorite mediums for a long time. (I bought the set featured in the photo over 10 years ago!) They're definitely on the pricey side (like $1 per pencil), but they often go on sale and craft store coupons can usually be used on them. I find that they're worth the price because the colors are vibrant, and they can be blended and layered. They are way better than your typical colored pencils!
Figma Archetypes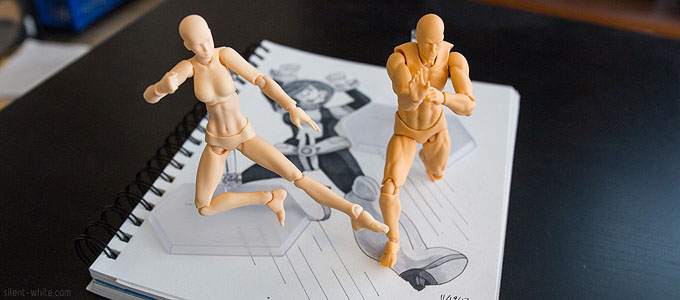 Lastly, these aren't really art specific, but they're useful as references! (Figuarts has a similar figure if you have issues getting the Figma version.) I love how flexible these figures are and how they come with extra hands to change out. They're so much easier to use than the wooden mannequins. I typically put them in the pose I want, and then I take a photo in the perspective that I want. It's helped so much when drawing human bodies!
I have other supplies too, but for many things (like pencils and sketchpads), I don't buy from a consistent brand. The ones above are specific ones I really like! If you have art supplies you love too, feel free to let me know!