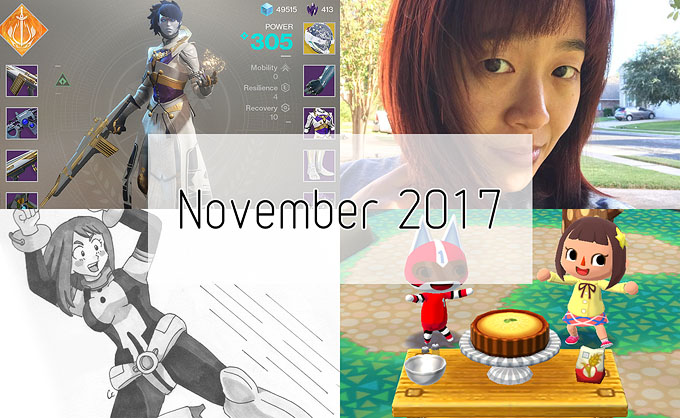 Even with (US) Thanksgiving, November felt like a pretty chill month for me. Not much happened early in the month, and then when Thanksgiving came around, I took that whole week off. I realized I hadn't taken a long vacation this year like I usually do and was starting to really feel burned out. I just needed a break.
Some things I did this month:
I treated my husband to a birthday dinner at a Spanish tapas place. We had never been there before, but a coworker recommended it to me, and it was really good!
I saw Thor: Ragnarok, and man, that was a fun movie.
We had Thanksgiving dinner with my parents, my husband's parents, and his grandparents. It was at the grandparents' house, and they have a pretty traditional Thanksgiving dinner – you know, turkey, stuffing, mashed potatoes, etc etc. Oh, and also four pies. Yeah, it was a lot of food.
I did Black Friday shopping online and bought myself new winter tops. Of course, I'm still waiting for winter weather. I'm wearing a T-shirt here sometimes!
We also took advantage of Black Friday/Cyber Monday deals to buy new appliances, specifically a new microwave, stove, and dishwasher. Such adulting.

I got my hair cut and colored. I normally grow out my hair during the winter, but the length and amount I had was driving me crazy! I asked for it to be cut to my shoulders and dyed to a dark red.

With that time off, I made sure to spend some time on my hobbies. I know that I'm bad at drawing human bodies and poses, so I'm using my Figma archetype figures and have been forcing myself to do more full body drawings. You only get better with practice, right? I've also been using my new gray Copic marker set, which I love.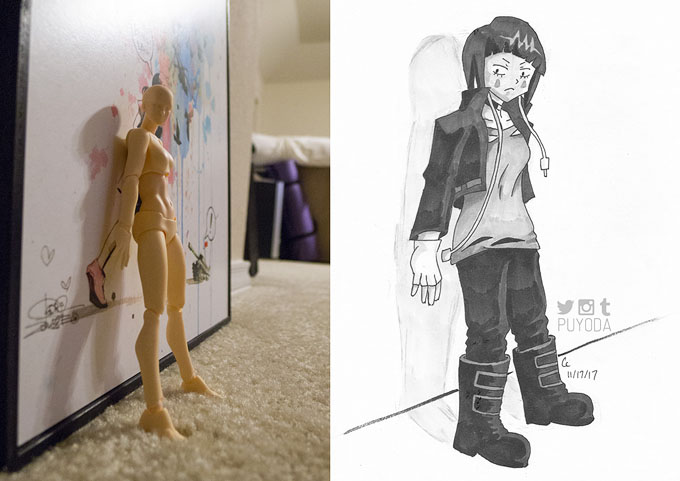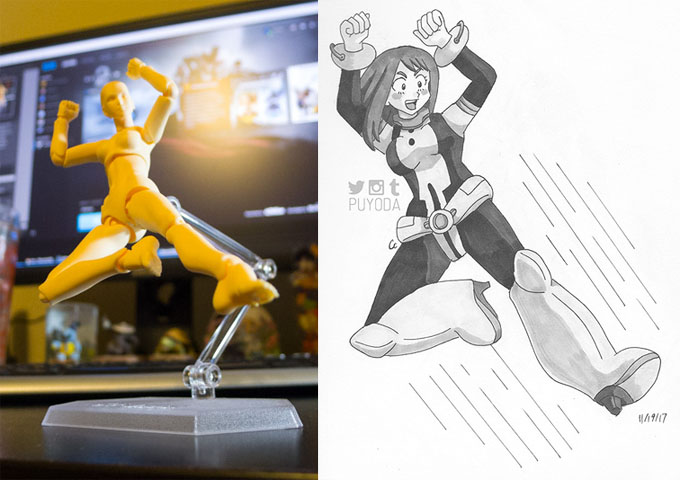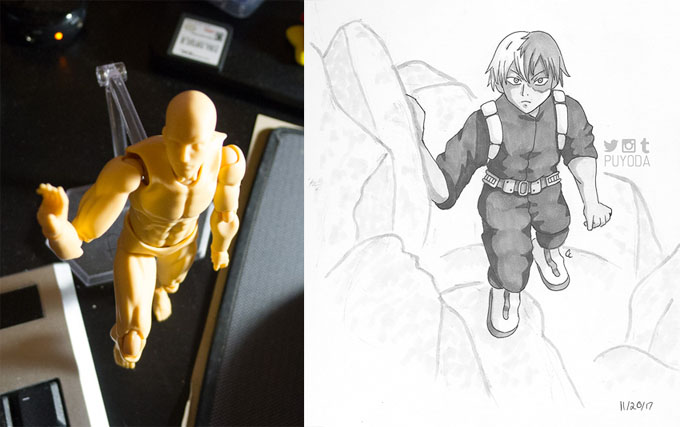 On the video game side, I'm spending a lot of time in Destiny 2. (My recent inactivity is due to this game…) Thanks to friends helping me with the raid and Nightfall, I finally got my Warlock to the max power level! Just in time before the expansion increases the max and leaves me behind again…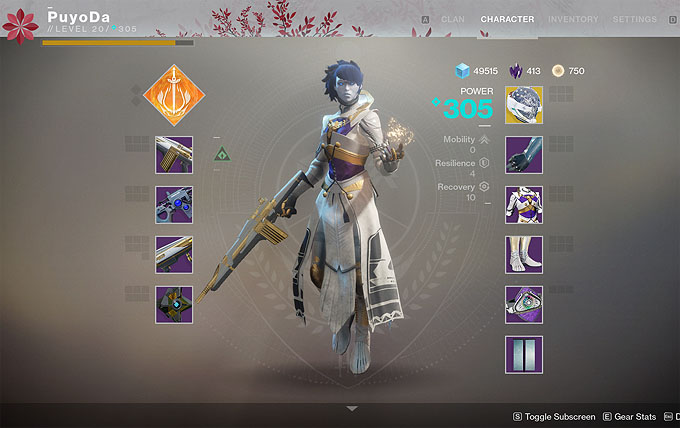 And like many others, I'm into Animal Crossing Pocket Camp too. Back in the DS days, my college friends and I were really invested in Animal Crossing Wild World. Many of us were playing it, and we created a network of trading items and checking turnip prices. This was easier to do when we could check on our towns in between classes. Now that I work, I haven't been motivated to try the newer Animal Crossing games. A mobile version with less responsibilities is perfect for me! (Though, I do wish there were more social aspects.)
Now to review the goals I set for November:
Finish cleaning up and decorating our bedroom – Almost! I still have a canvas to hang up and curtains I need to finish making, but the rest of the room is done.
Finish clearing out the closet in our spare room – Done! All unneeded boxes have been broken down for recycling, and the rest of the closet has been organized. The room itself still needs more cleaning, but at least I have the closet done.
For December, these are my goals:
Finish a game that isn't Destiny 2 – Seriously. I pretty much neglected other games I started (and also hobbies) because I've been playing Destiny 2 so much. Time to catch up a little on my backlog!
Finish cleaning up the spare room – This project has spanned several months now, and I think I'm finally close enough to really finish the job.
I hope everyone has a good holiday season! I'm quite behind on reading blogs, so I'll visit soon!