To those who have been following along for a long time, you know that I'm no stranger to Hawaii. This was my fifth trip there! After me and my husband's fourth trip in 2015, we were determined to take a long break from it. You know, get some variety in our vacations.
However, my parents really wanted to have a family vacation, and at the time, I already knew I was pregnant (but they didn't). I suggested a few places that I knew I could manage and enjoy while pregnant, and everyone seemed to like the idea of Hawaii. So… we took our fifth trip to Hawaii with my parents, brother, and sister-in-law!
Our first destination was the Big Island of Hawaii, which is one of my favorite islands and my second time visiting it. Of the four major islands (Oahu, Maui, Kaui, Big Island), it's one of the quieter ones, and like its nickname suggests, it's the largest one.
Day 1: checking in
My parents live near me, so we flew together to Big Island, while my brother and his wife flew over from Pennsylvania. There's two major sides to the island: Kona in the west and Hilo in the east. Kona is the dry side of the island and where most hotels are, so that's where we stayed.
After arriving, we tried to check into our hotel, but our rooms weren't ready yet. We passed time at a nearby farmer's market and then just relaxed around the hotel property until they were ready. At night, we had dinner at Teshima's, which has comfort Japanese food. I got an omurice (omelette fried rice)!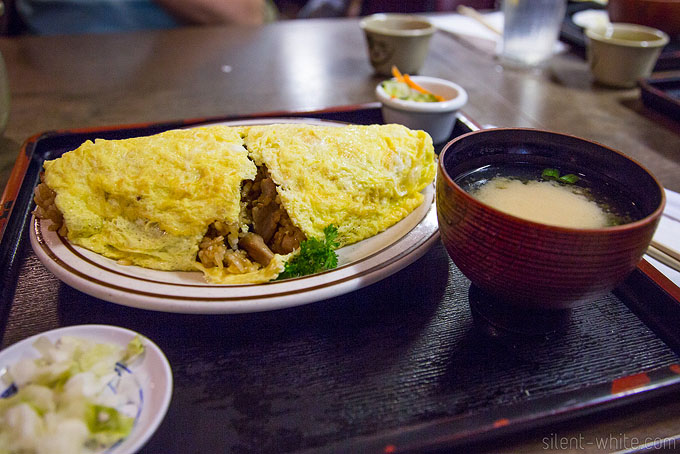 Day 2: snorkel day
I woke up to the sound of the ocean. Though I booked the cheaper garden view rooms, we somehow got a free upgrade to the ocean view rooms. My husband has always been the type to wake up before me, so he opened our balcony door, and it was such a lovely sound to wake up to.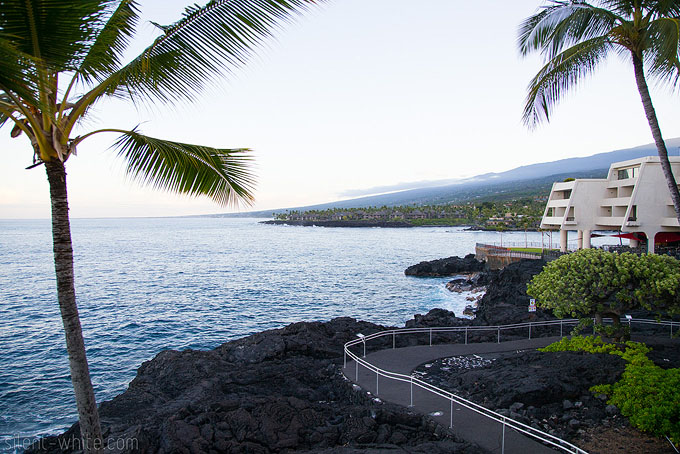 Snorkeling is our favorite thing to do in Hawaii. It's so relaxing, and in Hawaii, it's easy to see lots of interesting tropical fish. After meeting up for breakfast, we drove to Snorkel Bob's to grab some snorkel rentals for the week.
Tip: Find a reputable snorkel chain for your rentals. They have better gear and much cheaper rates than the hotels! Also ask them for recommendations on where to snorkel!
We had three places in mind to try, and the first was Kamakahonu Beach. We really liked this one! It's a beach with a pier, and we snorkeled on both sides of it. It's an easy swim with clear water and plenty of fish to see. We ended up spending over 2 hours here!
Since we spent more time than expected at Kamakahonu, we skipped one of the places on the list and went to Kahaluu Beach. Though it's known for sea turtles, we didn't get lucky and see any when we were there. For beginners, this might be a nice place because the water is very clear, there's a lot of fish, and it's very shallow. However, the shallow water is also a big problem. We thought it was way too shallow, such that it was easy to accidentally hit the coral (a big no-no) or scratch yourself.
Sadly, I don't have a GoPro or underwater camera, so anytime I talk about snorkeling, I won't have photos. (Really wishing I bought one for this trip though!)
After that, it was late, and we were starving. We headed to L&L Hawaiian BBQ for a quick and easy lunch. This is a chain that is also available on the mainland (especially in California)! My husband and I shared a chicken katsu and a loco moco – hamburger patty over rice, topped with gravy and eggs.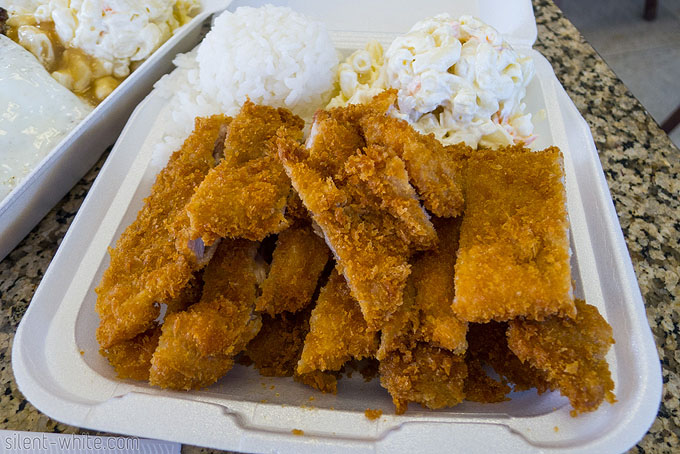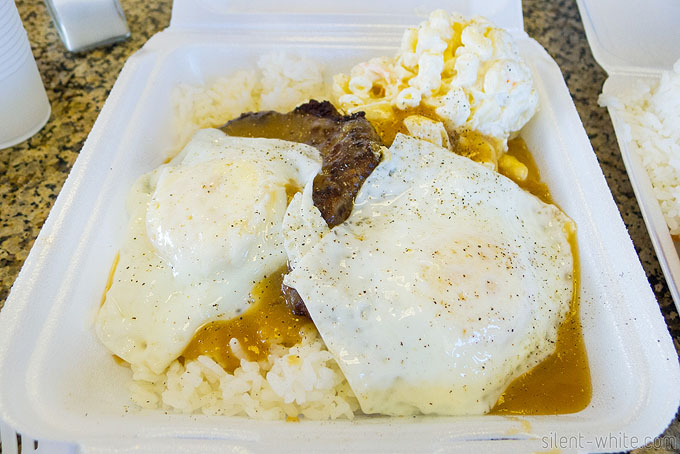 At night, we spent some time in the actual Kona area (our hotel was a bit south of it). After some shopping, we chose the Kona Inn Restaurant for dinner, where I ordered a Caesar salad topped with calamari. This was surprisingly good! The calamari was so tender and the breading was very light. It didn't have the usual heavy feeling of fried calamari. We chose this restaurant because it has a lovely view of the ocean, and we were able to watch the sunset as we ate.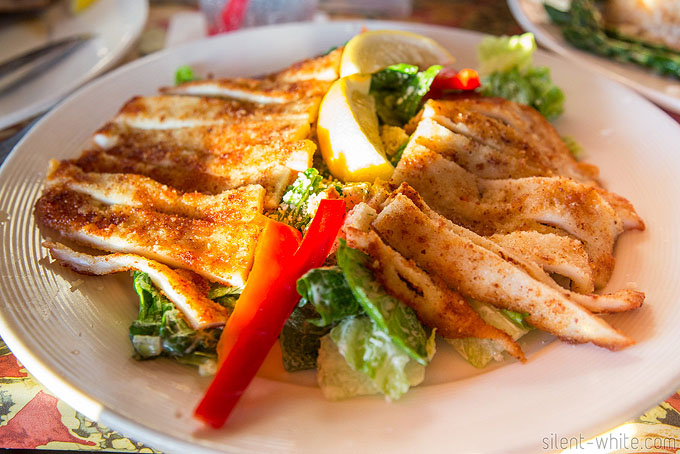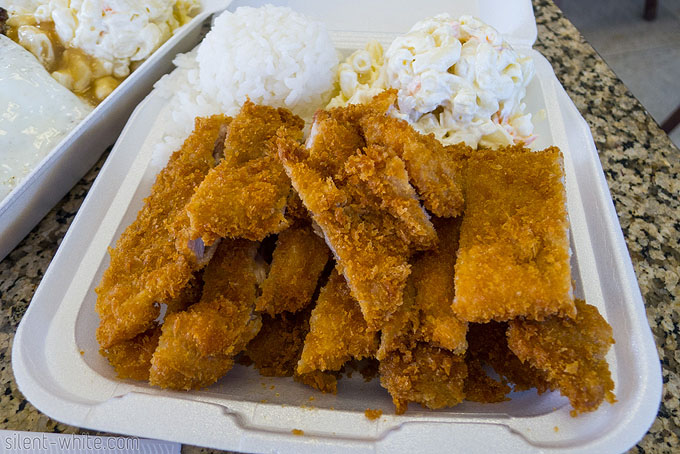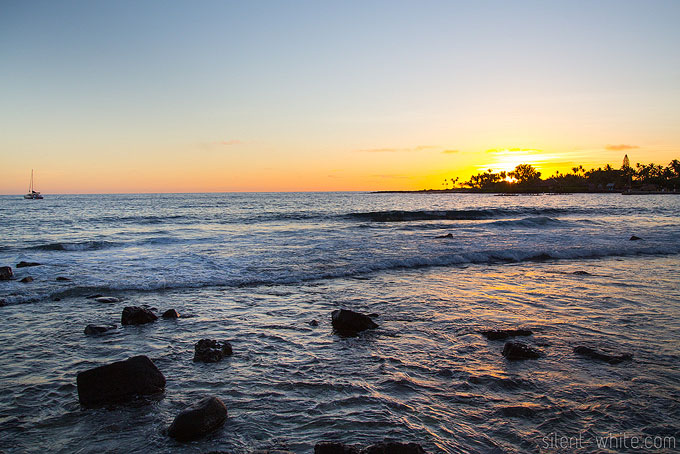 The day after, we headed to Volcano National Park. This day needs its own entry, so stay tuned for next time!