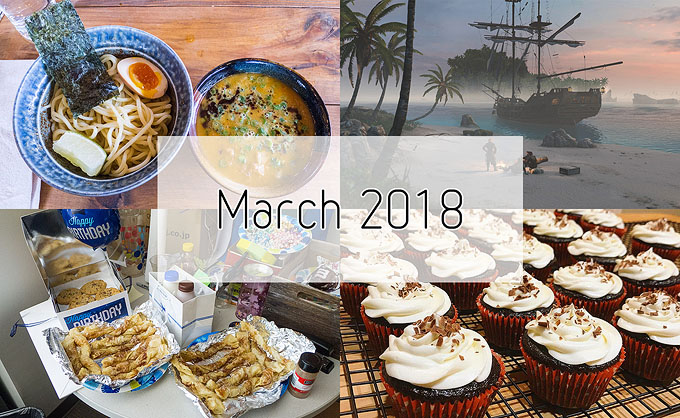 March was very much a birthday month, not only for me but for several coworkers. I celebrated mine with lots of food, and then I baked for my coworkers! It actually gave me a chance to try out a few new things I've been wanting to do.
For one coworker, I baked mint chocolate chip cookies, which is a recipe I'm already known for. For the others, I did new things:
Chocolate cake with chocolate buttercream – I normally do a mint buttercream with chocolate, but I made a chocolate buttercream this time to make it super chocolately. I forgot to take photos of this though!
Spiced chocolate cupcakes with cream cheese frosting – I wanted to try a smokey and spicy chocolate cake, so I altered my recipe to include cinnamon, ancho, and cayenne. I paired it with a cream cheese frosting to contrast with the spice.
Chiffon cake with strawberry jam and whipped cream frosting – Each part was a new recipe for me! (How did I not realize how easy it is to make jam??) This cake was light and refreshing compared to my usual flavor-rich cakes.
They were all a big hit, especially the spiced chocolate cake! I'm glad I have coworkers who are willing to be my taste testers ;)

The other hobby I focused on in March was gaming. I realized I've been slacking on this and haven't been playing anything new. First, I finally finished Pyre, and then from there, I moved onto Assassin's Creed IV: Black Flag. That game has been in my backlog for years! I used to love the Assassin's Creed series, but I wasn't a big fan of AC:Revelations and AC3, and it's been hard for me to get back into it. Fortunately, AC4 is already showing much more promise!

I've also been getting back into co-op games. With my husband, we've been playing Forced, a co-op brawler and puzzle-type game. We also started up Legend of Zelda: Tri Force Heroes again. The first time we played it, we tried it with my mother-in-law who liked playing Zelda games on the DS/3DS. Sadly, we couldn't get very far because she had a hard time with later levels. This time around, we started over to play with another friend, and it's going smoothly! (Well, except for the times my husband trolls us by throwing us off ledges.) I think we'll be able to finish the game this time around though!
Anyway, I'm going to leave this entry a bit short because not much else has been going on. However, I'll hopefully have some exciting things to share in the next month or two! Some sneak peeks:
I'm taking a family vacation with my parents and with my brother and his wife. Though we've met up for holidays, family reunions, and weddings, we haven't had an actual family vacation together since 2012. (And my brother wasn't with his wife at that time either.) I'll have a write-up and photos as usual afterwards!
Remember how I said I wanted to move to a new blog on a new domain? Yeah, I totally meant to have that ready by January or February, but here we are in April. I finally painted the picture I want to use for the layout, so maybe I'll have it done soon?
I am taking a break from cosplay photoshoots and am starting a new photography project. I'll have Instagram, Twitter, and Facebook pages for it once it's up!
And some other things too, which I'll leave vague for now!
Have a good April everyone!