Back when my husband and I visited Big Island in 2013, we went to Volcano National Park, but we made the mistake of not leaving enough time to fully explore it. This time, we went again with my family on day 3 of our trip, and we made sure to arrive earlier!
Like last time, we planned a couple of stops along the way. The first was Punaluu Black Sand Beach, which is known for both being a black sand beach and also being a place where sea turtles like to come up and bask. When we arrived, there were no sea turtles to be seen! We thought we were really unlucky this time around.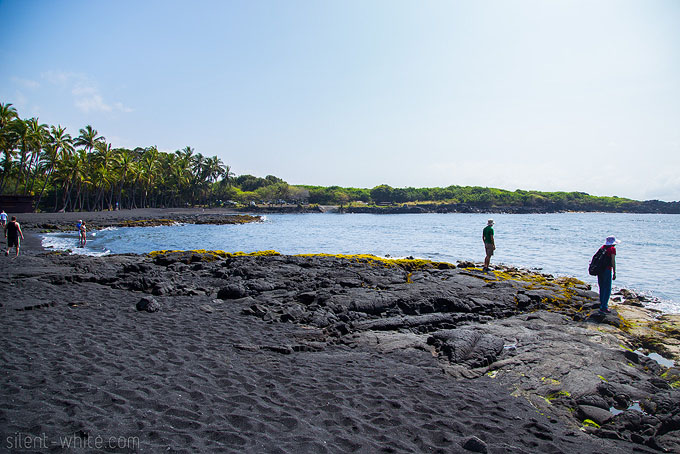 We stuck around for a bit though, taking photos and checking out the beach. That paid off because while we were there, a sea turtle started to come on land!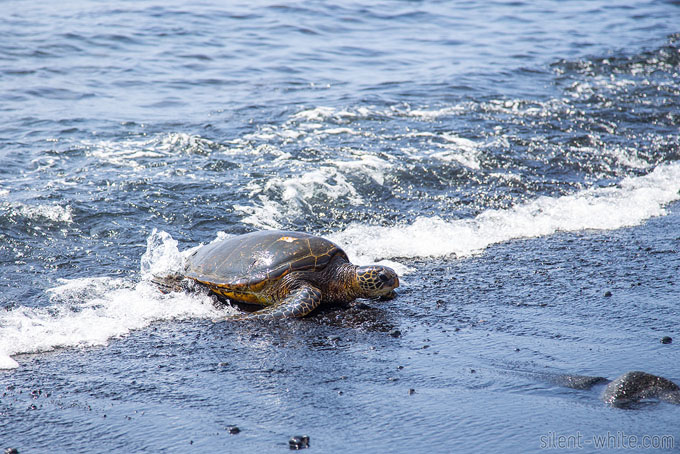 While sea turtles gracefully swim in the water, they're not as smooth on land. The turtle would wait for the waves to come in before crawling, so that the waves could give it a little push forward. Once it was just far enough for the water to not touch it anymore, it immediately put its head down to take a nap!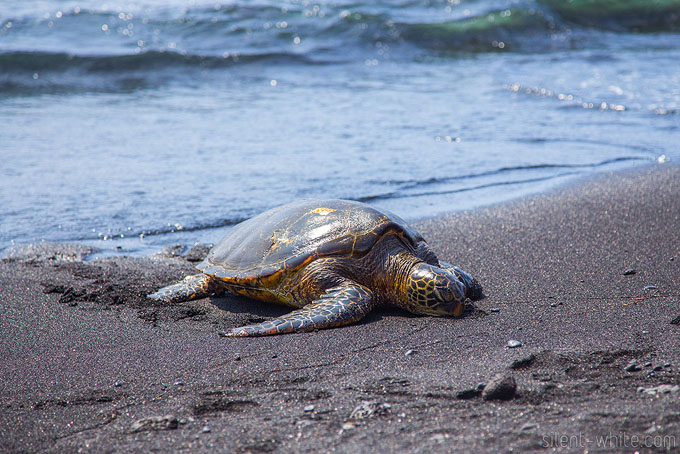 Also, remember that if you ever see a sea turtle in the wild, please give it space and don't touch it! I had to yell at tourists to step away from the turtle and give it some room. Seriously people, show nature a bit of respect.
After that, we backtracked a little to the Punaluu Bake Shop where we bought some food and yummy baked goods. Then we headed to the Volcano National Park! Big Island is the only Hawaiian island that still has an active volcano (which you've probably noticed from recent news), and it can be seen here.
We started by doing a couple walking trails near the visitor center, and then we headed to the Thurston Lava Tube – a lava tunnel that was formed by flowing lava a long time ago.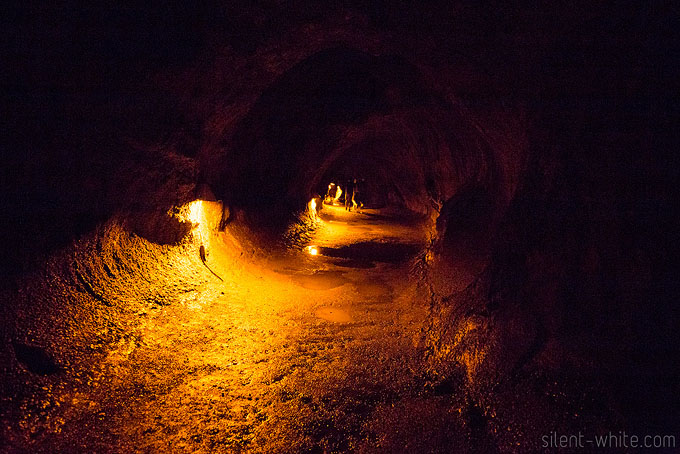 As we walked through the lava tube, my sister-in-law asked…
"Wait, where's the lava?"
"We're literally in it."
"I thought there'd be live, flowing lava."
"Yeah, I'm pretty sure that'd kill us."
From there, we started on the Chain of Craters drive! This was the part that my husband and I didn't have time for during our last Big Island trip. It's a road that leads towards the ocean, going through old lava fields with overlooks and points of interest along the way.
We stopped at a few places, and it's quite a sight to look out and see the barren black lava fields. It's also amazing to see the bits of vegetation that has broken through and are living in the cracks.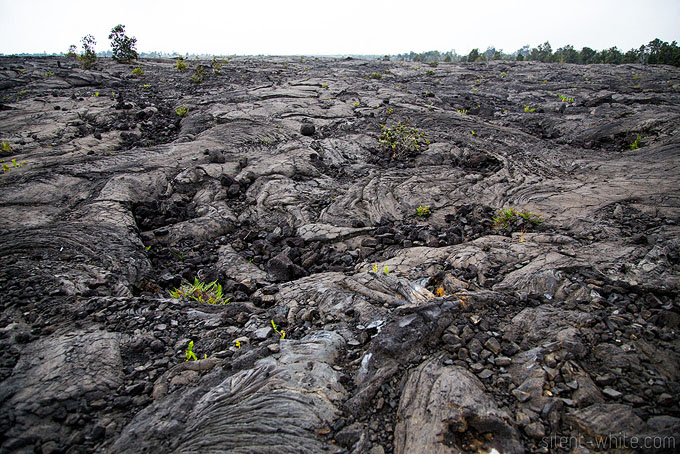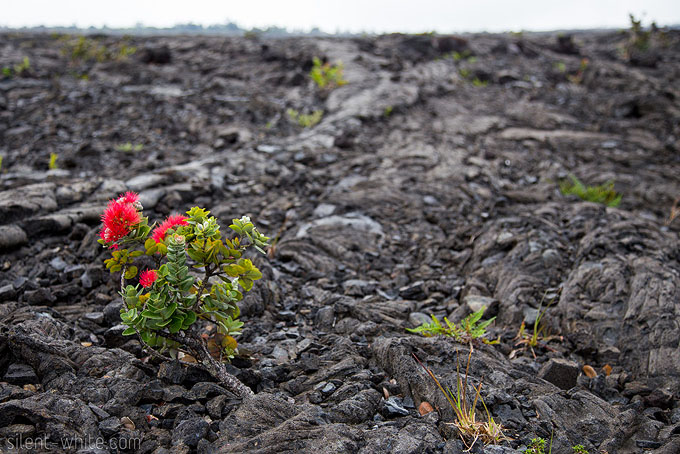 Near the end of the trail, you can see the ocean and the Holei Sea Arch off of the side of the cliff.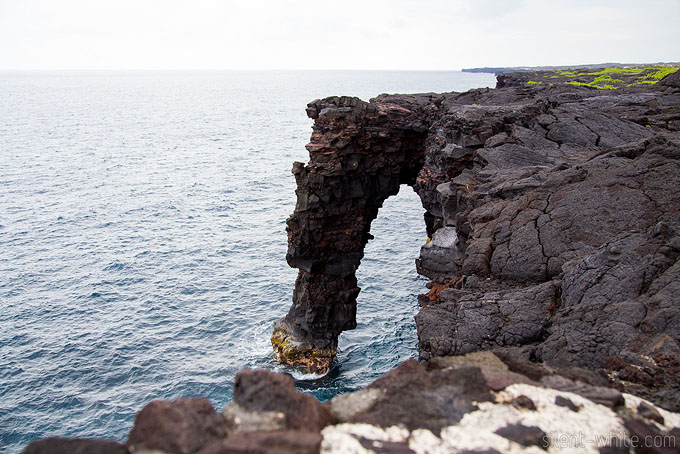 On the way back up the road, we stopped by the Pu'u Loa Petroglyphs, which is a short hike from the road. It's a sacred place for Hawaiians, showing images carved into the hardened lava by travelers many years ago.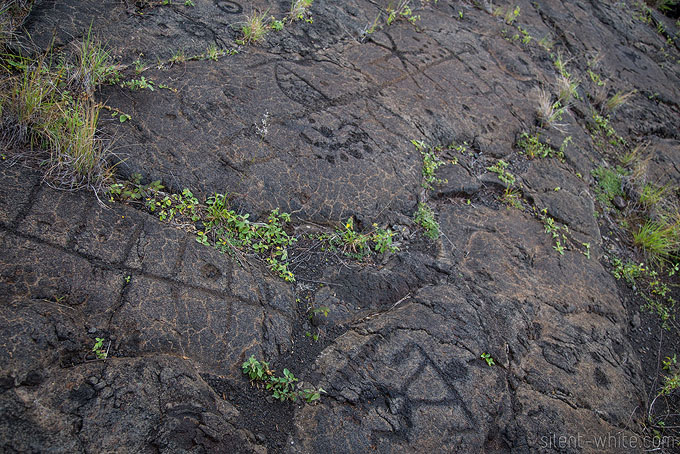 Shortly after walking back and getting into our mini van… it started raining! Fortunately, that was good timing since it hadn't rained at all while we were out exploring, and after seeing the petroglyphs, we were ready to call it a day. We just had one more stop, so we drove up the Jagger Museum, where you can get a view of the active crater. Though, with the rain and fog, there was pretty much no visibility, so we couldn't see much when we got there. We decided to leave and grab some Thai food for dinner on the way back to the hotel.
On day 4 of the trip, my brother wanted to do some hiking. He was thinking of going to Waipio Valley, and I also suggested that they check out Pololu Valley too. I knew both would be steep hikes down to the valley, and being pregnant, I felt I shouldn't risk doing them. I told everyone to go on without me!
I spent the day just relaxing at the hotel, mostly reading by the pool and at our room's balcony which faced the ocean. I didn't feel like I was missing out since I had seen both valleys in a previous trip – Waipio from an overlook, and I've hiked down to Pololu. It actually felt kind of nice to just have a relaxing day!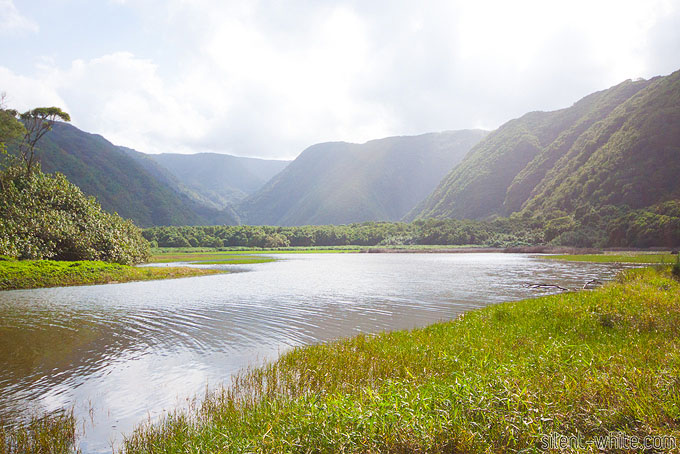 When everyone got back, we swam in the pool together for a bit before heading to a nearby sushi place for dinner. The other downside of being pregnant is that I can't eat raw fish, so I had to stick to rolls and nigiri with cooked pieces.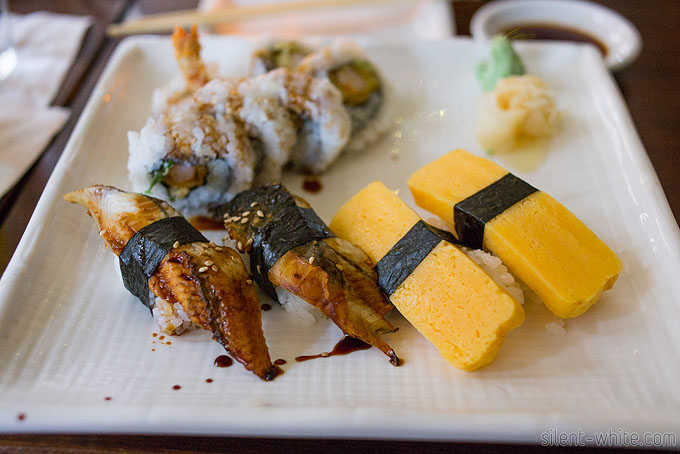 Next up, I'll write about a couple unique snorkeling experiences I hadn't done before. But first! I'm going to take a slight break from Hawaii entries to write about other things that have been going on lately :)