I recently discovered onigirazu and have been making it lately! It's a play on the Japanese rice ball, onigiri and is actually an old fad that has become popular again. It looks kind of like a flattened sushi roll and has a similar idea to an onigiri: it's some sort of filling inside salted sushi rice.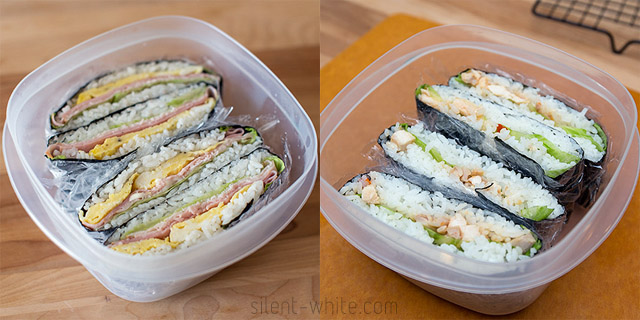 There's two main reasons why I prefer the onigirazu now:
Easier and less messy to make! With onigiri, you typically use your hands to mold the rice ball. With onigirazu, you just layer the ingredients inside of the seaweed.
More filling! If you stuff too much filling inside of an onigiri, it's hard to put together and can fall apart. Because onigirazu is larger and is held together with a seaweed wrap, it can hold much more inside.
I like packing it as a lunch to bring to work, and it's pretty filling too. Even though I've been making two at a time, I actually start getting full after the first one. (I'm making less next time…) It's also nice that it's flexible because it's simply seaweed, sushi rice, and then a filling of your choice.
I'm going to show how to make it!