Last month, I wrote about Blue Apron, and I wanted to give an update on it! I'm not sure if I'll do this for every delivery, but I know a few people were interested in seeing how this goes. (You can follow my food blog for photos of the food.) These are the last 3 deliveries I got!
Delivery #2
The 2nd delivery we got was a real winner. I mentioned in my previous post that we liked the main parts of the dishes, but the sides were a hit or miss. This time around, we enjoyed all 3 dishes, even the sides.
Seared Salmon with Panzanella
We love salmon, but we were afraid that the panzanella might be a repeat of the cucumber salad we didn't like from before. That wasn't the case! The panzanella was great. I think having a few cooked ingredients mixed in helped a lot. We really enjoyed this dish, and it felt fitting for the summer.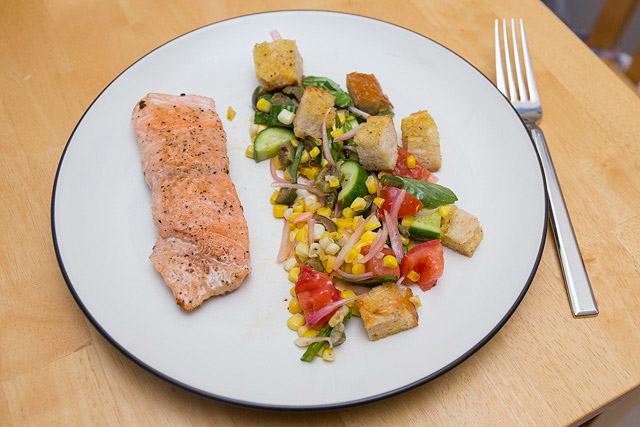 Spiced Meatballs
I don't have a photo of this because uh… it didn't turn out very pretty, haha. This one was really good as well. The squash salad was very lemony and the acidic flavor helped balance out the heavier meatballs. I love lemony things, but a whole lemon might have been too much lemon juice. If we do this again, we'll use less of the lemon.
Stir-Fried Ginger-Basil Chicken
This was the least exciting looking one, but it ended up being our favorite of the three, and we did it twice! (The 2nd time, we had to shop for our own ingredients.) The coconut flavor was nice and subtle, while the stir fry part was delicious. When it was mixed together, everything just worked together really well.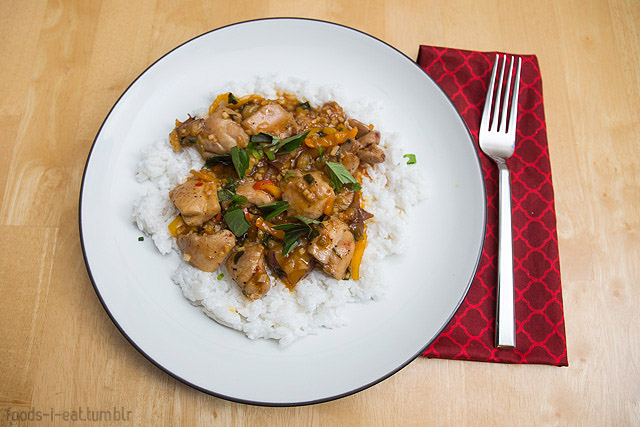 ---