What I'm sewing
The last time I did one of these entries, I mentioned that a coworker commissioned me to make an Elsa (Frozen) costume for his 9-year old daughter. Since then, I've ordered fabric swatches, took her measurements, drafted a pattern, made a mock-up, ordered the fabric, and then adjusted the pattern. So much prep work!
Now I can start on the real thing. I don't have much progress yet, but my goal is to finish the whole thing this month.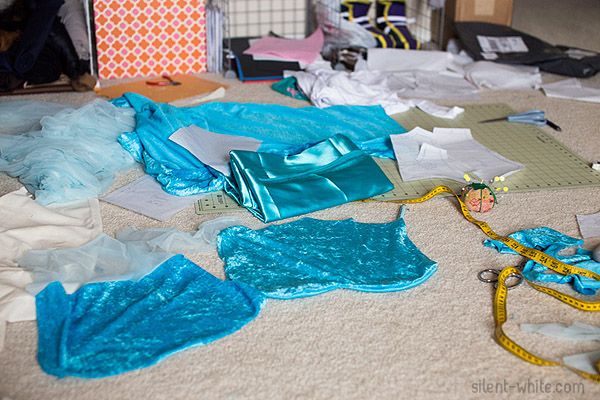 I'm also looking into making a couple costumes for myself. After all, stores are already preparing for Halloween, so now I can tell people I'm buying fabric for a costume and not look like a weirdo ;)
(By the way, since this entry is so photo-heavy, the rest will use thumbnails that link to the full image.)
About 5 years ago, I cosplayed from the game The World Ends With You. I made Neku, Beat, and Shiki costumes for myself and 2 friends. Now I'm thinking about going back to TWEWY again to make a Rhyme costume. If I ever make a Joshua costume later, then I will have made all 5 main characters!
The second one I'm considering is Misao from Rurouni Kenshin. My coworkers have been tossing around ideas for a group cosplay, Rurouni Kenshin being one of them. It reminded me that I wanted to make a Misao costume many years ago and never did it.