If you've been following my blog or instagram for a while, you might remember that back in November, I bought a bunch of parts during Black Friday to make a brand new computer.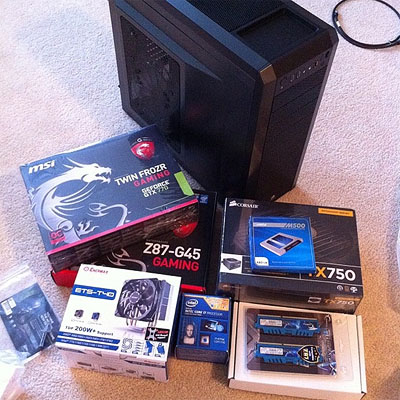 And then… those parts just sat around for months. I was excited for a new PC, but my PC at the time was still running and playing modern games at decent settings (even though it was 5 years old). So… I procrastinated because I didn't want to deal with reinstalling programs and finding product keys.
After much laziness, I'm finally on my new computer :) My husband kept nagging me about it until I forced myself to take it in steps.
First, I built it with the new SSD in it but none of my hard drives from my old computer. This let me at least start it up, install the OS, and begin installing some programs.
I began moving over the products that need to be deactivated on my old PC and reactivated on the new one (namely Rosetta Stone and Adobe products).
I moved over my photos hard drive, back-up hard drive, and my Lightroom install.
Finally reactivated the remaining products (including the OS) and moved my main hard drive over to be used as the main storage.
And so, here it is in all its glory!
Read the rest of this entry »