I'm back from AnimeFest! I'll have another entry about it later because I'm a little backlogged on getting photos up XD;;
Lately, I've been thinking about building a new computer. My current one turns 4 years old next year, and I was planning on upgrading every 4-5 years. Plus, I'm jealous. Last year, a few friends built new computers with shiny new parts and SSDs. One of them is my husband, and I can't help but be annoyed that he can start up the same game after me but have it up and running before me.
And so, I've been looking at computer cases. Choosing the case is one of my favorite parts of building a computer, because it's like playing dress up with it ;) This is my current computer case.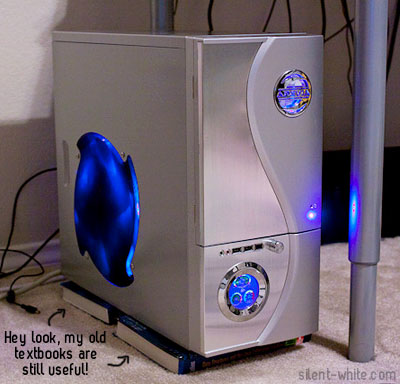 I love the sleek silver look and the shiny blue LEDs. I'm kind of sad to let it go! The reason I'm not re-using it is because I've decided to keep it intact and give it to my brother. He's been wanting to play Diablo 3, and my computer can still play it (and other current games) with no problems.