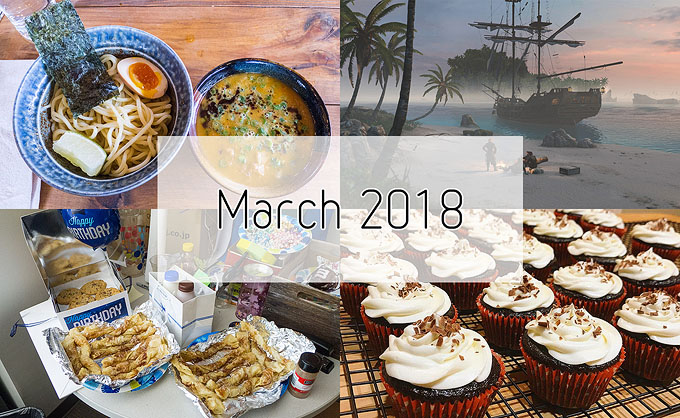 March was very much a birthday month, not only for me but for several coworkers. I celebrated mine with lots of food, and then I baked for my coworkers! It actually gave me a chance to try out a few new things I've been wanting to do.
For one coworker, I baked mint chocolate chip cookies, which is a recipe I'm already known for. For the others, I did new things:
Chocolate cake with chocolate buttercream – I normally do a mint buttercream with chocolate, but I made a chocolate buttercream this time to make it super chocolately. I forgot to take photos of this though!
Spiced chocolate cupcakes with cream cheese frosting – I wanted to try a smokey and spicy chocolate cake, so I altered my recipe to include cinnamon, ancho, and cayenne. I paired it with a cream cheese frosting to contrast with the spice.
Chiffon cake with strawberry jam and whipped cream frosting – Each part was a new recipe for me! (How did I not realize how easy it is to make jam??) This cake was light and refreshing compared to my usual flavor-rich cakes.
They were all a big hit, especially the spiced chocolate cake! I'm glad I have coworkers who are willing to be my taste testers ;)