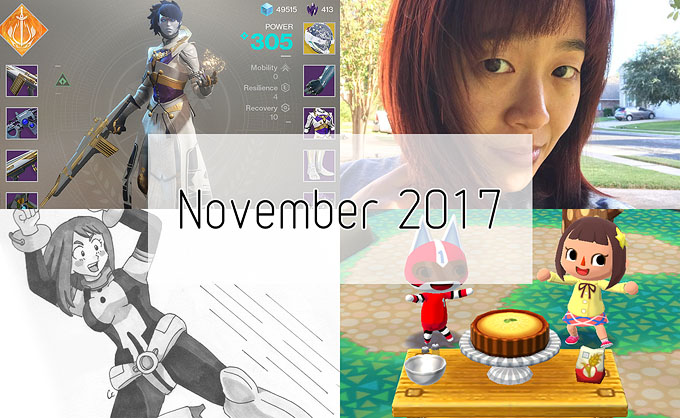 Even with (US) Thanksgiving, November felt like a pretty chill month for me. Not much happened early in the month, and then when Thanksgiving came around, I took that whole week off. I realized I hadn't taken a long vacation this year like I usually do and was starting to really feel burned out. I just needed a break.
Some things I did this month:
I treated my husband to a birthday dinner at a Spanish tapas place. We had never been there before, but a coworker recommended it to me, and it was really good!
I saw Thor: Ragnarok, and man, that was a fun movie.
We had Thanksgiving dinner with my parents, my husband's parents, and his grandparents. It was at the grandparents' house, and they have a pretty traditional Thanksgiving dinner – you know, turkey, stuffing, mashed potatoes, etc etc. Oh, and also four pies. Yeah, it was a lot of food.
I did Black Friday shopping online and bought myself new winter tops. Of course, I'm still waiting for winter weather. I'm wearing a T-shirt here sometimes!
We also took advantage of Black Friday/Cyber Monday deals to buy new appliances, specifically a new microwave, stove, and dishwasher. Such adulting.

I got my hair cut and colored. I normally grow out my hair during the winter, but the length and amount I had was driving me crazy! I asked for it to be cut to my shoulders and dyed to a dark red.