I've actually done this meme twice now, but the last time I did it was… 4 years ago! Of course, my bag and contents have changed since then, so here it is again :)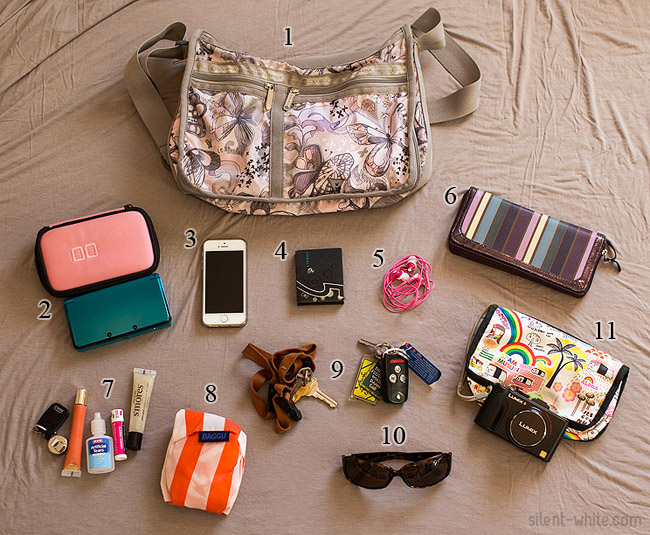 1. I'm currently using a LeSportsac Deluxe Everyday bag. When I first got it, I thought it was too big, but my mind quickly changed after seeing how much I could put in it. It has several compartments too! I no longer stand in front of my door, searching for my keys for like 5 minutes, because I have a special place for them now.
2. 3DS and case – have to StreetPass!
3. iPhone 5S
4. Gum – usually 5 Gum in Cobalt.
5. Headphones – often useful in public places when using my phone or 3DS.
6. Wallet – I like these big wallets to hold a bunch of cards. I'm a sucker for those free rewards cards you can get at places.
7. Small things like key fob for work, chapstick, lip gloss, and eye drops.
8. Reusable bag – never know when you might need it, especially since plastic bags are banned in my city. (Not a complaint, by the way. I liked the move to using reusable bags over plastic.)
9. Keys – I keep my house and car keys separate. That was handy for the time I locked my keys in the car and was still able to enter my house for the spare.
10. Sunglasses
11. Panasonic Lumix LX5 – a nice compact camera that can shoot in RAW and allows for full manual settings. Most of my food photos are actually with this camera since I always have it in my purse. It's stored in another LeSportsac bag.
I also carry a few other items not pictured like medicine, tissues, and a copy of my car insurance (useful for car related things like rentals or renewing registration).
If you haven't done this meme yet, I recommend doing it! It's fun to see what everyone is using and carrying in their bag :)