Lately I've noticed that I have been happier. It's not that I wasn't before I guess, but I remember feeling very stressed out a few months ago. I think it was mainly being overwhelmed at work and not being fully prepared for my team's growth. I was mentoring 3 interns, had 4 new hires start around the same time, and was switching to more of a management position.
Don't get me wrong; I was relieved to have more people! My team definitely needed the help! It took me a few months of trying new things to organize all the chaos. Now we have found what works for us, are working together well, and my team has told me that they really like my management style. Even if my work is still as busy as before… it feels really good now which makes me happy :)
And when things feel good, even little things just put me in a very good mood. Some small things that have made me happy…
Knowing alternate routes to work and feeling like a car ninja when I take back roads to bypass traffic.
Quoting a lesser known movie I love and having people recognize and respond to it. "You use this word? Alcoves?" "Nooks and crannies, yes!"
Looking at my work calendar for the day and seeing it free of meetings. (This is a rarity now.)
Having people miss me while I was out on vacation and then having them joke that I'm not allowed to leave anymore XD;;
Randomly finding Pocky flavors I haven't tried yet. Did you know there's a chocolate banana flavor?
When my husband has the same food craving as me. "What should we eat tonight?" "I kind of want ramen…" "I was thinking the same thing!"
Hanging up new art on the walls.
Emptying the vacuum cleaner and seeing how much it picked up. (Ok this is also kind of gross, but it's satisfying, you know?)
When the radio station plays several songs in a row that I like.
That last hour in the work day when most people have gone home, and I can do a bit of coding.
Post processing my photos and feeling proud of the results. Here's a preview of what I'll be sharing in my first Maui entry!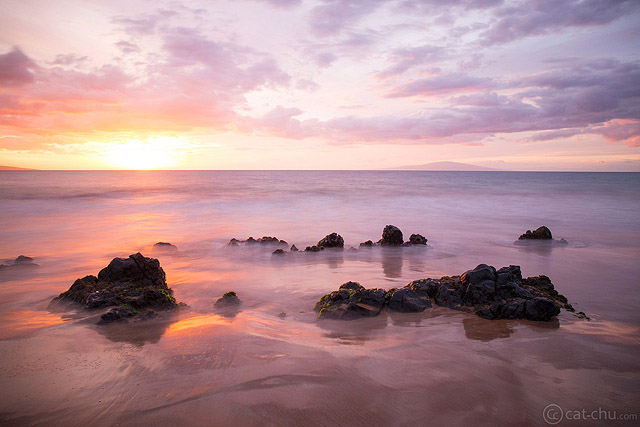 Are there any small things that have made you happy too? I hope everyone has a great week!