There were many games revealed during E3 last week that I'm excited for, and there's 3 in particular that I'm really looking forward to because I liked their predecessors. Well, "liked" is an understatement. I absolutely love them and they're on my list of favorites. So, here's 3 of my favorite games and my thoughts on their upcoming sequels!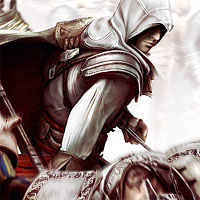 Assassin's Creed 2 (PC, Xbox 360, PS3)
Sypnosis: Desmond relives the memories of his ancestor, Ezio Auditore da Firenze during the 15th century in Italy. Ezio's family is caught in a political plot, and he witnesses his father and brother hanged. He then trains as an assassin while discovering who is behind it all.
My thoughts: …on the Assassin's Creed series: I hated 1, loved 2, enjoyed Brotherhood, thought Revelations was ok, was disappointed in 3, and haven't played 4 yet. AC1 had the right idea with the climbing around, blending in to escape guards, and assassination missions. It failed in its repetitive quests, clunky combat, an assassin who can't swim, and guards that think running is a crime punishable by death.
Assassin's Creed 2 is my favorite of the series because it kept the good parts of AC1 and fixed everything else. The combat was smoothed out, while keeping the nice climbing and guard escape elements. The pacing of the game felt good as it gradually introduced new assassination elements, and there was a balance of main and side quests. Basically, everything about AC2 just felt right, and I haven't felt that way about the AC series since.
Thoughts on Assassin's Creed Unity: Seeing an AC game set in Europe again with its nice tall buildings (YES BUILDINGS, NO MORE TREES) reminded me of AC2, and I think that's why it immediately caught my attention. I'm also excited for the co-op since my husband plays the AC series as well. I think it'll open up new and fun possibilities. [View E3 trailer]