Well, I finally did it. I asked for the hosting account for hachi-roku.net to be cancelled. A few years ago, I made the decision to stop using the domain, yet I had several sites hosted on it. Over time, I moved everything off, but… I couldn't get myself to cancel the hosting and left it sitting there. It's like moving out of a house and running around thinking, "did I leave anything behind? Did I forget anything??"
I got my bill for March, and there was a feeling of relief to see it cut in half. Now I only pay for one hosting account instead of two. Even though the account wasn't something physical, it still felt nice to declutter a little in the digital world. Now I need to take another look at my websites and see if any should be shut down.
I've also been trying to declutter at home. Last year, I added a new rule in the house: stop buying new hangers when we run out. This doesn't mean stop buying new clothes. It means that anything new requires something old to be donated or thrown away. If there are no hangers left, then something must go. That led to this pile of clothing!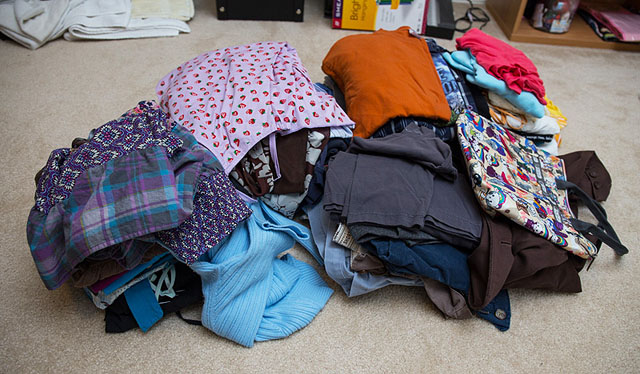 It has grown since then too. I keep seeing things in my closet that I haven't worn in a while and then I promptly toss it in the pile. Next on my to-do list is scheduling a pick-up with a donation place since I am also donating old kitchen supplies.